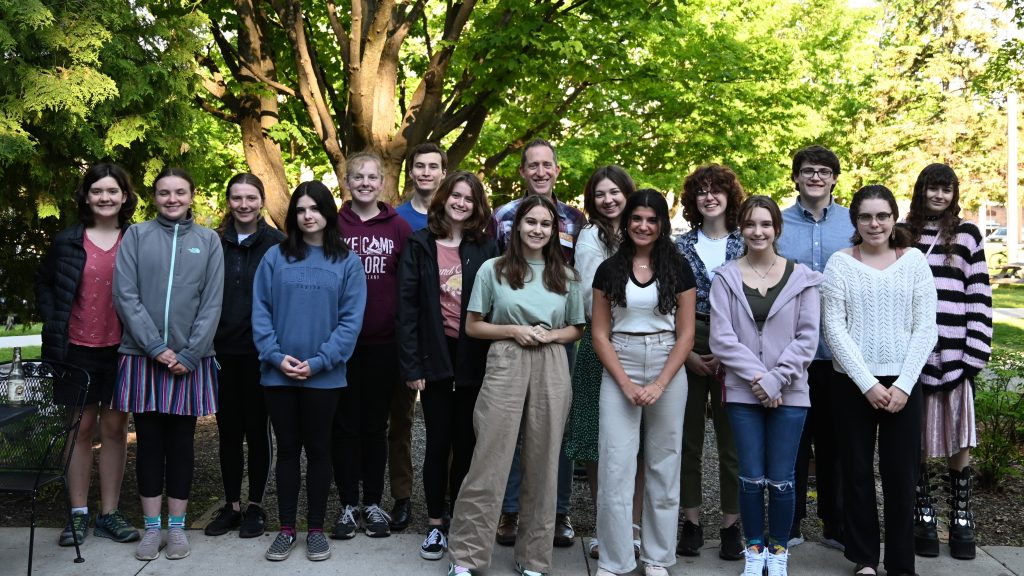 One of the real joys of my life over the past year was the opportunity to be a part of the relaunch of Front Street Writers. It was a joy because I had an opportunity to be a part of the National Writers Series in a staff capacity, taking a much bigger role in our vision to offer world-class creative writing education to young people in the Traverse City area. And it was a joy because, in this capacity, I had the opportunity to work with more than twenty teenagers, who are passionate about the opportunity to grow as writers.
The biggest difference between our new program and the past iterations of Front Street Writers was that the majority of the education took place online. In the fall of 2021, we did everything online, partly as a reflection of the state of the pandemic at that time. For the spring semester, we held our first sessions in person at Northwest Michigan College and were able to conclude our semester with a celebration at Higher Grounds in Traverse City. It was great to spend time together in the same physical space.
However, meeting online allows us to reach young writers from all over the five-county area. Through our first year, we had participants from Northport, Leland, Suttons Bay, Traverse City, Kingsley, and Elk Rapids. Eight different schools were represented, and I expect that to continue to grow.
When we initially launched the Creative Writing Lab (our online workshop), it was an uphill battle getting the word out to the students. We did some email marketing and communicated with schools, but the program was brand new, and it was a slow start. This winter, though, word started to spread.
I made several school visits and received a lot of help from teachers, who were excited about the opportunity to steer their students toward a high-level creative writing program. As a result, more than 20 students signed up for the lab this spring. We made some great connections with teachers, especially at Traverse City West, Elk Rapids, and Leland.
The reason it all works, though, is because the vision for National Writers Series hits on a huge need. We are filling a massive gap in students' education. At most, high schools might offer a single creative writing class, and the majority don't even offer that. Our education system in the United States is increasingly geared toward a narrow, test-based curriculum, and there's little room for creativity.
Teachers are frustrated, and students are hungry for more. It's notable that, as busy as young people are these days, we received such a high number of applications. Teenagers are willing to put time and energy into a program that isn't currently offering school credit. It shows how excited they are to learn, to write, and spend time with other kids like themselves.
Which is why Front Street Writers is growing again in our post-Covid world. The need is huge, and the students are excited. We have a great vision, and we're going to continue to grow in all of the right ways, reaching more students while increasing the quality of our programming.
~Kevin Fitton, NWS Creative Writing Lab Instructor
---