12 Strong Special Advanced Screening with Doug Stanton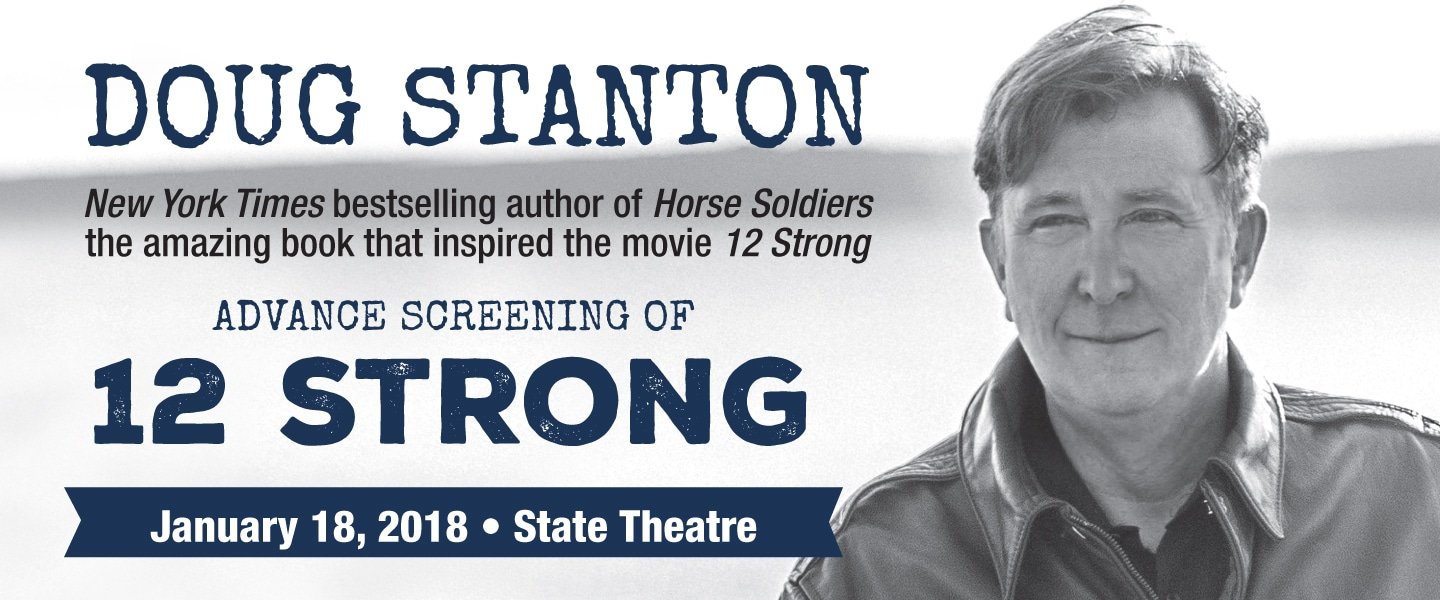 12 Strong Special Advanced Screening with Doug Stanton
Thursday, January 18, 2018
State Theater
7PM – Tickets:  (SOLD OUT)
Additional Showing to Support
Project Cherry Tree
January 19, at Cherry Blossom Theater:
Tickets : $25 (Must be purchased in Advance)
Tickets:
Jan 18 – $FREE (SOLD OUT)
Jan – $25 (Cherry Blossom supporting Project CHerry Tree)  MUST BE PURCHASEd in advance
Ticket Fees Explained
The City Opera House charges fees on each ticket,  which vary by the method in which they are purchased. Here's a detailed explanation:
Buying tickets in person at the Box Office
The Box Office is open Monday through Friday, 10 am to 5 pm, and one hour before the event. This option charges the lowest fees at $2.50 per ticket—this is a facility fee which funds maintenance of the Opera House, along with general upkeep and improvements. No matter how you buy a ticket, you'll always pay the $2.50 facility fee.
Buying tickets by phone
Each ticket is charged a $2.50 facility fee plus a $5 fee for the complete order (regardless of the number of tickets or number of performances purchased). This is an economical and convenient way to buy tickets. The friendly Opera House staff mans the phone lines Monday through Friday, 10 am to 5 pm. Call 231-941-8082, ext. 201.
Internet Service Fees
The City Opera House Box Office wants your ability to purchase tickets to be simple, easy and convenient. The Internet Service Fee covers costs that allow the City Opera House Box Office to provide the latest Internet ticketing technology, that allows you to select your own seat, 24 hours a day, 7 days a week from the comfort of your home or office. The Internet Service Fees are based on the face value of the ticket as follows and are on top of the $2.50 per ticket facility fee.
| | |
| --- | --- |
| Ticket Price | Internet Service Fee |
| $00.00-$19.99 | $2.00 |
| $20.00-$29.99 | $3.00 |
| $30.00-$39.99 | $4.00 |
| $40.00-$49.99 | $5.00 |
| $50.00-$59.99 | $6.00 |
| $60.00+ | $7.00 |
Group Sales Order Fee
There is a $7.00 per-order-fee for all group sales orders of 20 or more.
Hollywood comes to the National Writers Series!
12 Strong
is the 2018 major motion picture based on
The
New York Times
bestselling non-fiction book
Horse Soldiers
by Traverse City-based writer and NWS co-founder Doug Stanton. The Jerry Bruckheimer-produced film, starring Chris Hemsworth and Academy-Award nominated actor Michael Shannon, follows the first Special Forces team deployed to Afghanistan following the September 11 attacks. NWS is pleased to present a special advance screening of the upcoming film on January 18. NWS wishes to thank Warner Brothers for making this possible.
2009's Horse Soldiers was named a "Notable Book" by The New York Times. Stanton is also the critically-acclaimed author of In Harm's Way, The New York Times bestselling nonfiction book about the sinking of the U.S.S. Indianapolis; and The Odyssey of Echo Company, a story of war, homecoming and redemption set during the Vietnam War. A Traverse City native, Stanton has written on subjects ranging from travel and sports to history and entertainment. His writing has appeared in Esquire, The New York Times, TIME, Newsweek, Men's Journal, The Washington Post, and Outside Magazine. He lectures nationally and has taught creative writing and English at the undergraduate and graduate levels. He and his wife, Anne, have three children and live in Traverse City.