FOR IMMEDIATE RELEASE
CONTACT:
Jillian Manning, NWS Executive Director
[email protected]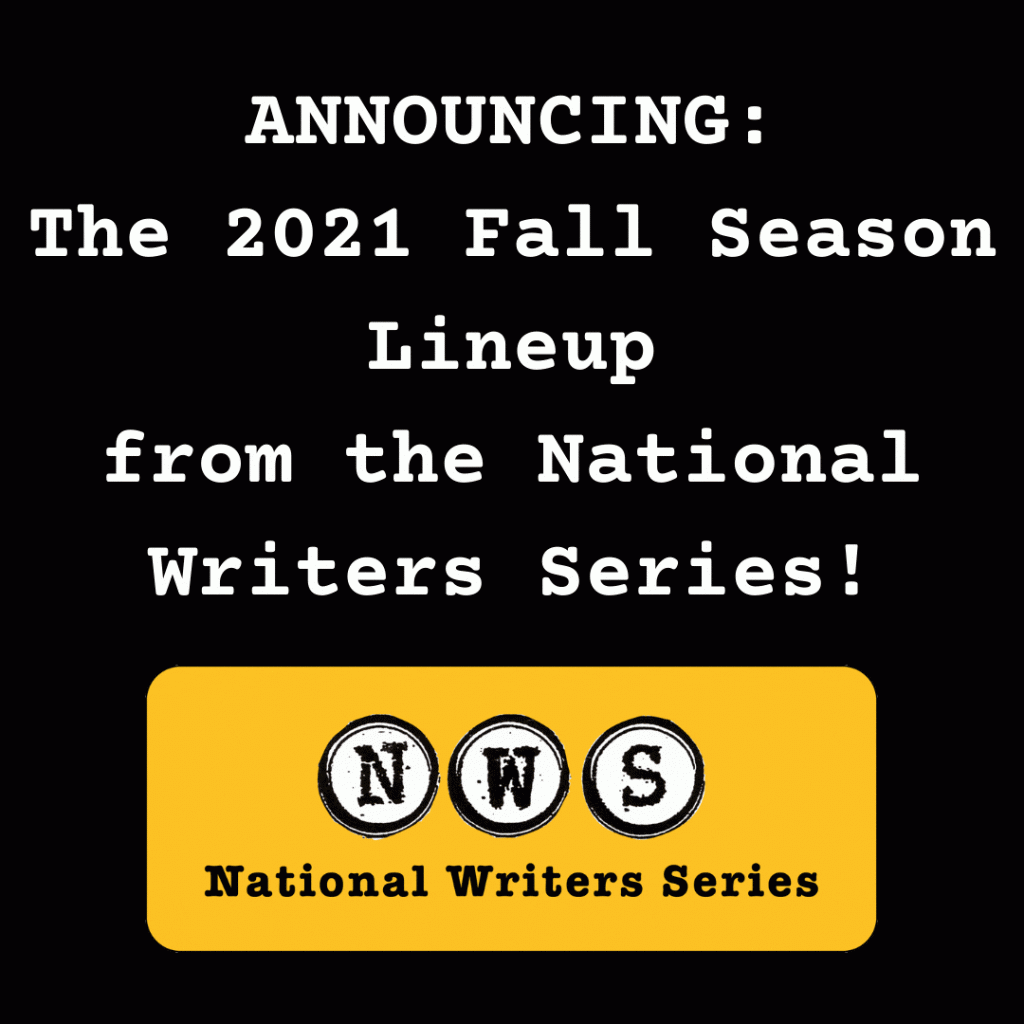 ANNOUNCING: The 2021 Summer Season Lineup from the National Writers Series!
Today, on National Book Lover's Day, the National Writers Series is proud to announce the Fall 2021 Season of events, with an amazing array of authors set to visit Traverse City, MI, in person and virtually this fall.
Gracing the stage is a full roster of new literary superstars, previous NWS favorites, a Young Adult icon, a breakout Michigander, and even a Pulitzer Prize winner.

"We responded directly to the requests from our audience for programming this season," says executive director Jillian Manning. "We were asked to find storytellers who could share perspectives on social justice, immigration, and the environment. Our audience also expressed a love for historical fiction and mysteries, so we set out to create a line-up geared toward our amazing supporters."

The return to in-person events has been long awaited, and is planned to begin with bestselling author John U. Bacon on August 26, which concludes the NWS summer season. Three fall authors—Pam Houston, Alex Michaelides, and Angeline Boulley—are also set to visit the City Opera House in person.
"We're so excited to hear applause and laughter in the City Opera House again," Manning says. "That said, the safety and comfort of our guests is still the biggest priority for the board and staff of the National Writers Series, and we know the Delta variant is out there. We will be monitoring any changes closely, as well as following all instructions from the CDC or State of Michigan."

For the latest guidelines on attending an in-person event at the City Opera House, attendees are encouraged to visit their COVID-19 page.
Finally, while in-person conversations will always be the first love of NWS, 2020 and 2021 provided an opportunity to connect with virtual attendees around the country. With that in mind, NWS decided to offer a live stream for all in-person conversations this season, so attendees can still participate in great conversations no matter where they are.
These live streams will require a ticket purchase to help support the costs of keeping a virtual option. Tickets to live streams can be purchased through the NWS website, while all in-person tickets will be purchased through the City Opera House website.
Without further ado, NWS will pull back the curtain to reveal who's visiting this fall:
---
September 9th: Pam Houston (LIVE at the City Opera House + virtual live stream)
First up, we finally welcome Pam Houston to the City Opera House stage on September 9th. Pam was supposed to be with us in April of last year, and, well, you know what happened.
We're thrilled to be able to bring her back for a discussion of the book she originally planned to talk about with us: Deep Creek: Finding Hope In The High Country.
Booklist says that the "always impressive" Houston "is in striking form here. Her talent remains remarkable and her words extraordinarily affecting and effective."
Our guest host for this discussion will be WTCM's Christal Frost.
October 7: Mary Roach (Ticketed Virtual Event)
Join us as Mary Roach, "America's funniest science writer" (Washington Post) returns to the National Writers Series virtual stage on October 7!
We'll be talking about her newest book Fuzz: When Nature Breaks the Law, an irresistible investigation into the unpredictable world where wildlife and humans meet.
Combining little-known forensic science and conservation genetics with a motley cast of laser scarecrows, langur impersonators, and trespassing squirrels, Roach reveals as much about humanity as about nature's lawbreakers.
As this is a virtual discussion, your favorite four-legged friend is welcome to join us! Our guest host for this event will be IPR's Kendra Carr.
October 14: Anthony Doerr (Ticketed Virtual Event)
We're honored to bring you a conversation with Anthony Doerr, the Pulitzer Prize–winning author of All the Light We Cannot See, which is not only one of the most beloved pieces of modern fiction, but among its best selling, spending a full 200 weeks on the New York Times bestseller list.
We'll be welcoming him on October 14th to discuss his newest masterpiece: Cloud Cuckoo Land.
Dedicated to "the librarians then, now, and in the years to come," Cloud Cuckoo Land is a soaring story about three generations of children on the cusp of adulthood in worlds in peril, who find resilience, hope—and a book.
Your ticket purchase includes a copy of the book, and a few lucky guests will win autographed bookplates!
October 18: Alex Michaelides (LIVE at the City Opera House + virtual live stream)
Esquire magazine praises author Alex Michaelides as "an unstoppable force in the thriller space," and we agree—which is why we're excited to bring him to Traverse City on October 18th for a live discussion of his newest novel: The Maidens.
(Believe it or not, his first novel, The Silent Patient, is still on the New York Times bestseller list this week!)
The Maidens is a twisting tale of secret societies, ancient traditions, dark underworld … and murder. Newsweek says it "permanently cements [Michaelides] as a top modern author with this new work, a masterful, slow-burn blend of Greek mythology and a knife-edged plot."
All this just a couple of weeks before Halloween? Can't wait.
November 4: Jason Reynolds (Ticketed Virtual Event)
Bring the kids and the grandkids to this November 4th discussion with author Jason Reynolds, the National Ambassador for Young People's Literature.
Reynolds is a Carnegie Medal winner and the author of Miles Morales: Spider-Man as well as the best-selling series of Track novels (Ghost, Patina, Sunny and Lu) plus All American Boys, Long Way Down, and For Everyone.
Our conversation with Jason will focus on his book Stamped: Racism, Antiracism and You (for readers 13 and up), an adaptation of Ibram X. Kendi's Stamped from the Beginning. The discussion of antiracism is much needed in our community, and we're honored to have Jason with us to share his expertise.
Our guest host will be Rochelle Riley, the Director of Arts and Culture for the city of Detroit and a recent NWS guest author herself.
November 18: Omar El Akkad (Ticketed Virtual Event)
Journalist and war correspondent Omar El Akkad's first book, the dystopian thriller American War, was listed as one of the best books of 2017 by The New York Times, The Washington Post, GQ, NPR, and Esquire, and it was selected by the BBC as one of 100 Novels That Shaped Our World.
He joins us virtually on November 18 (one week before Thanksgiving!) to talk about his newest novel, What Strange Paradise.
It's a beautifully written and profoundly moving new novel that looks at the global refugee crisis through the eyes of a child. It's also already earning rave reviews: the New York Times says the book "deserves to be an instant classic."
Omar will be in conversation with Nargis Hakim Rahman, a reporter with WDET Detroit.
December 9: Angeline Boulley (LIVE at the City Opera House + virtual live stream)
We're closing our fall season at the City Opera House in a big way on December 9th, with an appearance from the breakout Michigan author of the decade: Angeline Boulley.
Boulley's stunning debut novel, Firekeeper's Daughter —a book that took her a decade to write—was an instant bestseller when it was released in March of this year.
NPR called the book "[an] absolute powerhouse of a debut" and Booklist calls it "an incredible thriller, not to be missed." It's also set to be adapted for Netflix by Higher Grounds, the production company run by Barack and Michelle Obama.
Our guest host for this event will be Holly T. Bird, the Co-Executive Director of Title Track.
---
And don't forget: John U. Bacon, author of Bo's Lasting Lessons and Endzone: The Rise, Fall, and Return of Michigan Football, will help us kick off (get it?) our return to live events later this month!
We'll be discussing his newest book: Let Them Lead. Please join us on August 26th for our return to the City Opera House! Learn more here.
---
The National Writers Series is a nonprofit organization dedicated to engaging world-renowned authors in meaningful conversations. Since 2010, NWS has hosted nearly 200 authors, including luminaries like Margaret Atwood, Alice Walker, Jodi Picoult, Scott Turow, and Gillian Flynn.

Throughout the years, over 70,000 people have attended our events, and we've helped sell over 18,000 books through local bookstores. Our author events fuel our Raising Writers programs, which help students express themselves, explore the world through reading, develop their imaginations, and think critically. Learn more at nationalwritersseries.org.
Our schedule at a glance:
August 26: John U. Bacon (in-person and live-streamed)
September 9: Pam Houston (in-person and live-streamed)
October 7: Mary Roach (virtual)
October 14: Anthony Doerr (virtual)
October 18: Alex Michaelides (in-person and livestreamed)
November 4: Jason Reynolds (virtual)
November 18: Omar El Akkad (virtual)
December 9: Angeline Boulley (in-person and live-streamed)