Mary Roach • Thu, Oct 7, 2021
Roach is the author of the New York Times bestsellers STIFF, SPOOK, BONK, GULP, GRUNT, and PACKING FOR MARS. Mary has written for National Geographic, Wired, and The New York Times Magazine, among others. She has been a guest editor for Best American Science and Nature Writing, a finalist for the Royal Society's Winton Prize, and a winner of the American Engineering Societies' journalism award, in a category for which, let's be honest, she was the sole entrant.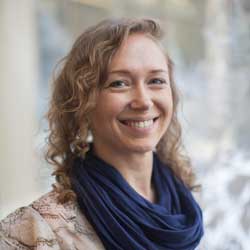 Kendra Carr is the host of Interlochen Public Radio's All Things Considered and Our Global Neighborhood. She grew up surrounded by the Manistee National Forest and the aisles of her parents' convenience store. A graduate of Cottey College and Western Michigan University, she started her career at an Oceana county housing agency working in eviction prevention and re-housing. She then transitioned to radio, first working for a top 40 radio station in Ludington before starting at IPR. She has performed on stages in West Michigan and Traverse City, most recently appearing as the Ingenue in the Old Town Playhouse's Indecent. When she's not acting on stage, she can be found judging for the Michigan Interscholastic Forensics Association or reading at home with her boyfriend and cats.