July 13, 2021
FOR IMMEDIATE RELEASE:
The National Writers Series Presents
"An Evening with Megan Miranda"
on July 22nd at 7pm ET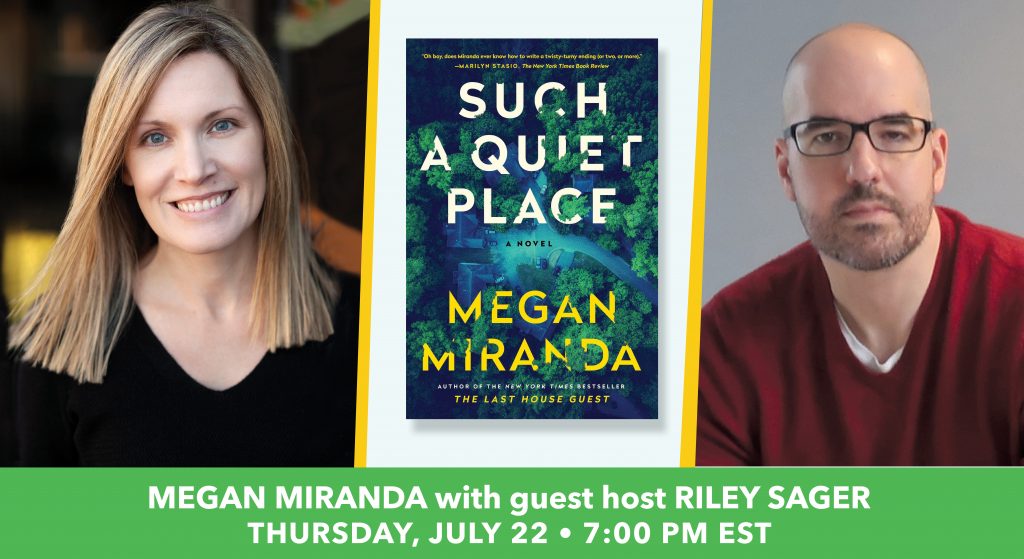 The National Writers Series is thrilled to announce that New York Times #1best-selling author Megan Miranda will join us for a virtual event on July 22nd! We'll be discussing her newest thriller, Such a Quiet Place, which will be available to the public just a few days before the event on July 15th.
Miranda, also the author of The Last House Guest—a Reese Witherspoon Book Club selection—has created a new riveting suspense novel about a mysterious murder in an idyllic and close-knit neighborhood.
Hollow's Edge used to be a quiet place. A private and idyllic neighborhood where neighbors dropped in on neighbors, celebrated graduation and holiday parties together and looked out for one another. But then came the murder of Brandon and Fiona Truett.
A year and a half later, Hollow's Edge is simmering. The residents are trapped, unable to sell their homes, confronted daily by the empty Truett house, and suffocated by their trial testimonies that implicated one of their own. Ruby Fletcher. And now, Ruby's back.
Pulsating with suspense and with the shocking twists that are Miranda's trademark, Such a Quiet Place is Megan Miranda's best novel yet—a twisty locked-box thriller that will keep you turning pages late into the night.
---
Early praise for Such a Quiet Place comes from Publisher's Weekly who says "the twists keep coming until the very last page. Agatha Christie fans will welcome this 21st-century update on the classic golden age village mystery" while CNN deems it one of the most anticipated books of July.
---
Our guest host for this event will be Riley Sager, author of the current NYT bestseller Survive The Night.
Megan Miranda joins the National Writers Series on July 22nd at 7 p.m. ET. This event is free (though a $10 donation is suggested), and registration is open at the National Writers Series website. The event takes place over Zoom and attendees will be sent a link at registration.

Media Contacts
Media interested in requesting a copy of the book or in scheduling an interview with Megan Miranda are invited to connect directly with Kassandra Rhoads or Margaret Southard at Simon and Schuster.
---
About the National Writers Series
The National Writers Series is a nonprofit organization dedicated to engaging world-renowned authors in meaningful conversations. Since 2010, NWS has hosted nearly 200 authors, including luminaries like Margaret Atwood, Alice Walker, Mary Doria Russell, Scott Turow, and Gillian Flynn.
Over 70,000 people have attended our events throughout the years, and we've helped sell over 18,000 books through local bookstores. Our live events take place at the historic City Opera House in Traverse City, while our virtual events are available worldwide via Zoom or YouTube live-streaming.
Our author events fuel our Raising Writers programs, which help students express themselves, explore the world through reading, develop their imaginations, and think critically. Learn more at nationalwritersseries.org.
Our remaining 2021 Summer Season events feature the following amazing writers:
July 22: Megan Miranda
August 5: Susie Yang
August 26: John U. Bacon (LIVE at the City Opera House)
---