Bonnie Garmus • Tue, May 9, 2023
Bonnie Garmus is a copywriter and creative director who has worked widely in the fields of technology, medicine, and education. She's an open-water swimmer, a rower, and mother to two pretty amazing daughters. Born in California and most recently from Seattle, she currently lives in London with her husband and her dog, 99.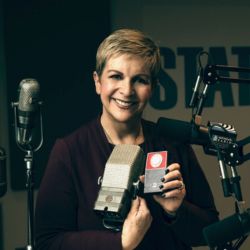 Cynthia Canty was the host of Stateside since the weekday show began in 2012. She retired in December 2019. A lifelong resident of metro Detroit, Canty was on television and radio in Southeast Michigan since 1979.
She has served as a popular radio host, television news anchor, producer, and as a general assignment, medical, and consumer reporter. Canty was a news anchor and morning show personality at Detroit radio stations WNIC-100.3 FM, WDTX- 99.5 FM and WMGC-105.1 FM. Throughout the 1990s, she was on WKBD-TV in the roles of news anchor, reporter and public affairs host & producer.
Her reporting and writing have earned her many awards, including an Emmy and honors from the Michigan Association of Broadcasters, the Associated Press and the Detroit Press Club.
Cynthia and her husband Sean live in Oakland County. Their family includes daughter Siobhan, son-in-law Sam, son Brendan, daughter-in-law Megan and four grandchildren, Liam, Brigid, Rory and Maeve. Sean and Cynthia's happiest times are spent at their ocean-side cottage in West Cork, Ireland.