October 19, 2021
FOR IMMEDIATE RELEASE:
The National Writers Series Presents
"An Evening with Joshua Prager, author of The Family Roe"
on Thursday, October 28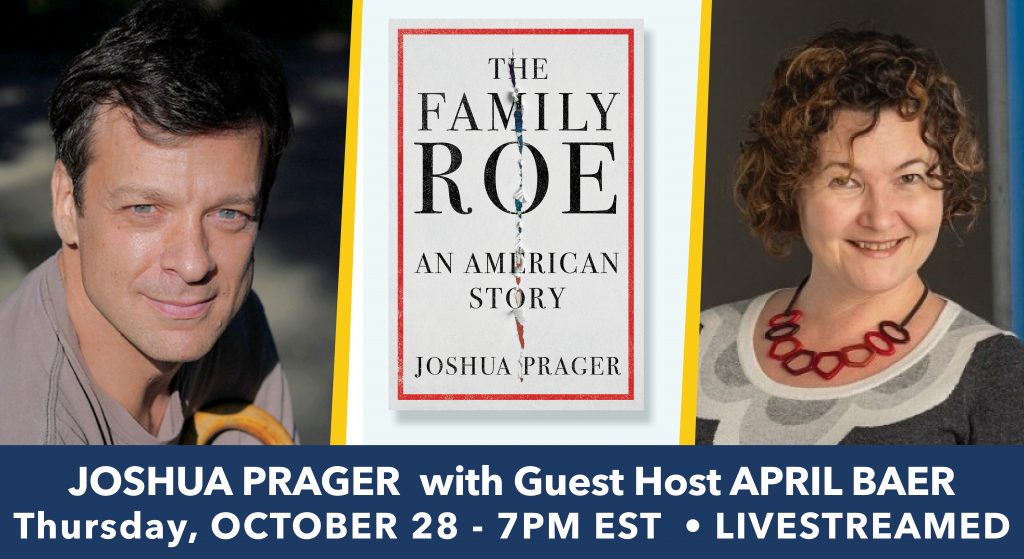 On October 28th, the National Writers Series delves into one of the most personal, sensitive topics in American culture, but through an author whose work offers a new and balanced perspective on the subject.
Despite her famous pseudonym, "Jane Roe," no one knows the truth about Norma McCorvey (1947–2017), whose unwanted pregnancy in 1969 opened a great fracture in American life. Author Joshua Prager spent hundreds of hours with Norma, discovered her personal papers—a previously unseen trove—and witnessed her final moments.
Prager's new book, The Family Roe, presents her life in full. Propelled by the crosscurrents of sex and religion, gender and class, it is a life that tells the story of abortion in America.
Joshua Prager has written for the Atlantic, Vanity Fair, the New York Times, and The Wall Street Journal. A former Nieman Fellow at Harvard, he is the author of The Echoing Green (a Washington Post Best Book of the Year). Our guest host for this event will be April Baer, award-winning broadcaster and host of Michigan Radio's Stateside.
Early praise for The Family Roe includes:
"Prodigiously researched, richly detailed, sensitively told.…like a fairy tale set in working-class America." (The New Yorker)

"The book, which is deeply reported and beautifully written, wants readers with all kinds of beliefs about abortion to step back and think about one another as people." (Slate)

"[An] ardently reported and painfully timely epic … an honest glimpse into the American soul." (The New York Times)

"Nuanced, fine-grained, and gripping, this is a masterful study of the human lives behind a landmark case." (Publisher's Weekly)
Joshua Prager joins the National Writers Series on October 28th at 7 p.m. ET. Virtual tickets are $10.50 and are available for purchase at the National Writers Series website, along with copies of the book. The event will take place over Zoom and attendees will be sent a link at registration.
---

Media Contacts
Media interested in requesting a copy of the book or in scheduling an interview with Mr. Prager are invited to connect directly with Kyle Radler at [email protected].
Jillian Manning
Executive Director, National Writers Series
---
About the National Writers Series

The National Writers Series is a nonprofit organization dedicated to engaging world-renowned authors in meaningful conversations. Founded in 2010 by reporter Anne Stanton, New York Times bestselling author Doug Stanton, and attorney Grant Parsons, NWS has hosted nearly 200 authors including luminaries like Margaret Atwood, Alice Walker, Mary Doria Russell, Scott Turow, and Gillian Flynn.

Over 70,000 people have attended our events throughout the years, and we've helped sell over 18,000 books through local bookstores. Our live events take place at the historic City Opera House in Traverse City, while our virtual events are available around the world via Zoom or YouTube live-streaming.

Our author events fuel our Raising Writers programs, which help students express themselves, explore the world through reading, develop their imaginations, and think critically. Learn more at nationalwritersseries.org.

Our Fall 2021 event lineup features the following amazing writers:
October 28: Joshua Prager
November 4: Jason Reynolds (Virtual)
November 18: Omar El Akkad (Virtual) 
December 9: Angeline Boulley (In-Person)