June 1, 2021
FOR IMMEDIATE RELEASE:
The National Writers Series Presents:
An Evening With Robin Wall Kimmerer
on Thursday, June 10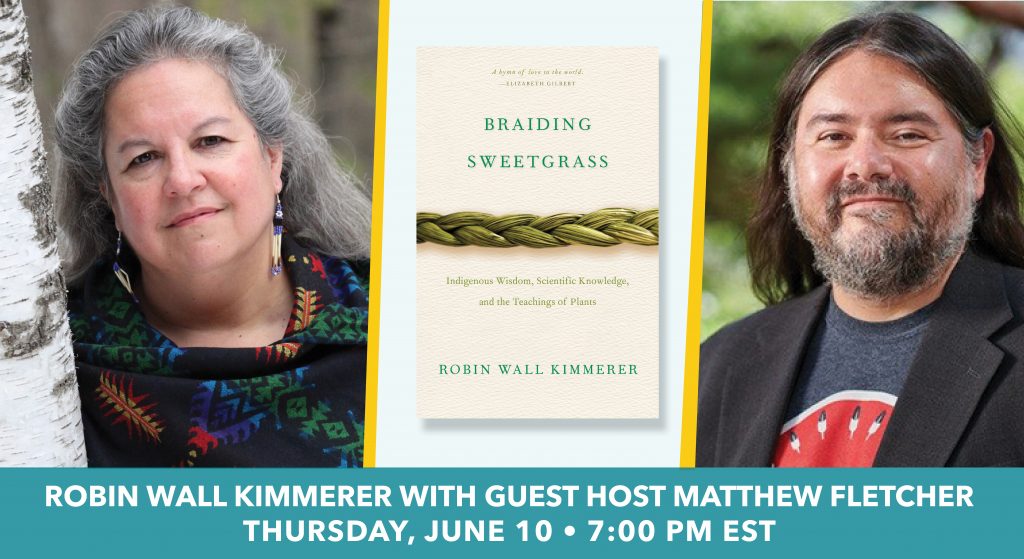 The National Writers Series of Traverse City is honored to kick off our 2021 Summer Season of author events with a true literary sensation: Dr. Robin Wall Kimmerer, author of Braiding Sweetgrass.

As a botanist, Robin Wall Kimmerer has been trained to ask questions of nature with the tools of science. As a member of the Citizen Potawatomi Nation, she embraces the notion that plants and animals are our oldest teachers.

In Braiding Sweetgrass: Indigenous Wisdom, Scientific Knowledge and the Teachings of Plants, Kimmerer brings these two lenses of knowledge together to take us on "a journey that is every bit as mythic as it is scientific, as sacred as it is historical, as clever as it is wise" (Elizabeth Gilbert).

Braiding Sweetgrass weaves together a central argument: that the awakening of a wider ecological consciousness requires acknowledging and celebrating our reciprocal relationship with the rest of the living world.

Dr. Kimmerer is a mother, scientist, decorated professor, and enrolled member of the Citizen Potawatomi Nation. As a writer and a scientist, her interests in restoration include not only restoration of ecological communities, but restoration of our relationships to land.

This ticketed virtual event takes place on Thursday, June 10 at 7 p.m. ET. For this evening's discussion, our guest host will be Matthew Fletcher, Foundation Professor of Law at Michigan State University College of Law and Director of the Indigenous Law and Policy Center.

This evening is presented in partnership with For Love of Water (FLOW), a nonprofit dedicated to protecting and preserving the extraordinary and essential natural resources of the Great Lakes. Half of the proceeds from our ticket sales will go to FLOW to support their mission.

We are also honored to welcome Chairman David M. Arroyo of the Grand Traverse Band of Ottawa and Chippewa Indians for a blessing at the beginning of our event, and the Botanic Garden at Historic Barns Park as a community partner.

Registration is open at the National Writers Series website. Tickets for this virtual event are $12 per household. The event takes place over Zoom and attendees will be sent a link at registration.

Media Contacts
Media interested in requesting a copy of the book or in scheduling an interview with Dr. Kimmerer are invited to connect directly with Christie Hinrichs at

[email protected]

.

Jillian Manning
Executive Director, National Writers Series


[email protected]






This event is made possible in part by a grant from the Michigan Humanities, an affiliate of the National Endowment for the Humanities.

About the National Writers Series

The National Writers Series is a nonprofit organization dedicated to engaging world-renowned authors in meaningful conversations. Since 2010, NWS has hosted nearly 200 authors, including luminaries like Margaret Atwood, Alice Walker, Jodi Picoult, Scott Turow, and Gillian Flynn.

Over 70,000 people have attended our events throughout the years, and we've helped sell over 18,000 books through local bookstores. Our events are traditionally held at the historic City Opera House in Traverse City, though we have continued the conversation via virtual events on Zoom since April 2020.

Our author events fuel our Raising Writers programs, which help students express themselves, explore the world through reading, develop their imaginations, and think critically. Learn more at nationalwritersseries.org.