September 1, 2021

FOR IMMEDIATE RELEASE:

 The National Writers Series Presents
"An Evening with Pam Houston"
LIVE on September 9th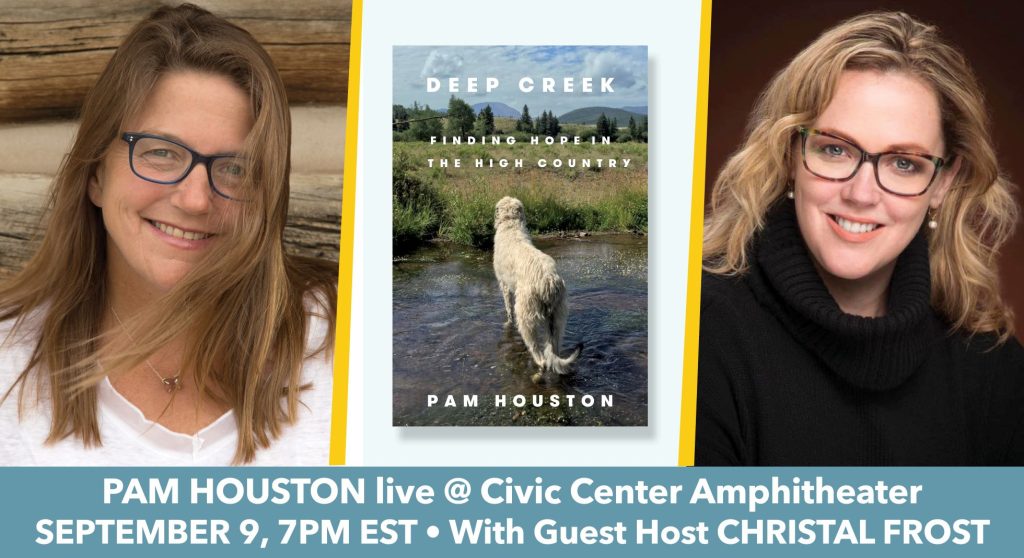 Can a 120-acre ranch in the remote Colorado mountain countryside heal the trauma in a person's soul? 

That's what we'll discover when the National Writers Series welcomes Pam Houston, author of Deep Creek: Finding Hope In The High Country. Houston was originally scheduled to join the NWS in April of 2020, and we're excited to welcome her to Traverse City to discuss this award-winning memoir.

Appropriately enough, Houston will be joining the NWS for an event in the great outdoors. We'll be gathering at the Civic Center Amphitheater in Traverse City for an evening of safe, socially distanced discussion with this "iconic" author (Oprah Daily) of the short story collection Cowboys Are My Weakness.

In Deep Creek, Houston shows us how she learns what it means to care for a piece of land and the creatures on it. Alongside her devoted Irish wolfhounds and a spirited troupe of horses, donkeys, and Icelandic sheep, Houston makes her ranch into a sanctuary, a place where she discovers how the natural world has mothered and healed her after a childhood of horrific parental abuse and neglect.

Kirkus Reviews calls the book "a profound and inspiring love letter to one piece of Earth," while Booklist says that the "always impressive" Houston "is in striking form here. Her talent remains remarkable and her words extraordinarily affecting and effective."

Our guest host for this event will be Christal Frost, host of "Frost & McCarty" on NewsTalk 580 WTCM, as well as the station's Director of Community Engagement. Frost is also actively involved with many community groups, including a Community Sponsor for this event: the Traverse Bay Children's Advocacy Center.

Pam Houston joins the National Writers Series in person at the Civic Center Amphitheater on September 9th at 7 p.m. ET. Livestream tickets are available at the National Writers Series website and in-person tickets can be purchased through the City Opera House. 

Media Contacts

Media interested in requesting a copy of the book or in scheduling an interview with Ms. Houston are invited to connect directly with WW Norton publicist Erin Lovett at [email protected]. 

  Jillian Manning
Executive Director, National Writers Series
[email protected]
---
About the National Writers Series

The National Writers Series is a nonprofit organization dedicated to engaging world-renowned authors in meaningful conversations. Founded in 2010 by reporter Anne Stanton, New York Times bestselling author Doug Stanton, and attorney Grant Parsons, NWS has hosted nearly 200 authors including luminaries like Margaret Atwood, Alice Walker, Mary Doria Russell, Scott Turow, and Gillian Flynn.

Over 70,000 people have attended our events throughout the years, and we've helped sell over 18,000 books through local bookstores. Our live events take place at the historic City Opera House in Traverse City, while our virtual events are available around the world via Zoom or YouTube live-streaming.

Our author events fuel our Raising Writers programs, which help students express themselves, explore the world through reading, develop their imaginations, and think critically. Learn more at nationalwritersseries.org.

Our Fall 2021 event lineup features the following amazing writers:
September 9: Pam Houston (In-Person)
September 23: "Afghanistan Today" Panel, hosted by Doug Stanton (In-Person)
October 7: Mary Roach (Virtual)
October 14: Anthony Doerr (Virtual)
October 18: Alex Michaelides (In-Person)
November 4: Jason Reynolds (Virtual)
November 18: Omar El Akkad (Virtual)
December 9: Angeline Boulley (In-Person)