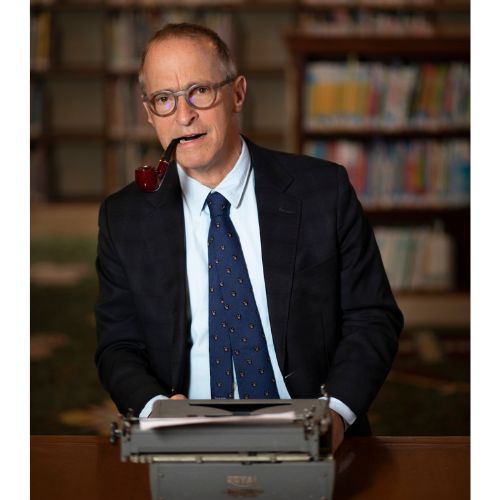 While next season's full lineup is still being finalized, we couldn't wait to tell you about one very special returning guest:
On October 30th, NWS is bringing David Sedaris back to the City Opera House!
It's been over a decade since his last NWS appearance, but soon the acclaimed author of Me Talk Pretty One Day and When You Are Engulfed in Flames will return to Traverse City to share stories from his new book: Happy-Go-Lucky.
Tickets go on sale to the general public later this month, but NWS Friends get exclusive pre-sale access next week for these tickets and all of our other author events for this fall!
Tickets for this special event will be available for $42-$55 plus taxes and fees, with student tickets available for $15.
This special event will not be live-streamed or recorded, so you really need to be in the room when David Sedaris returns to Traverse City.
If you've donated $50 or more to the National Writers Series in the last calendar year, you're already on our Friends list—but if you haven't, and you want to ensure you're among the first in line for tickets, donate now:
Tickets for NWS Friends should go on sale next Wednesday (fingers crossed), will go on sale Tuesday, August 9th. On that date, we'll also announce our other confirmed guest authors as well.
Becoming an NWS Friend is the best way to find out who these guests will be, where and when they'll be joining us, and whether or not they'll be livestreamed.
The National Writers Series has been a proud part of the Traverse City community for over a decade, and thanks to your support, we've helped to make this more than just a beautiful resort town: This is a Book City.
Thank you for being a part of the National Writers Series! We look forward to seeing you in person at the City Opera House when David Sedaris returns to Traverse City!