Author Next Door Spotlight: Tricia Frey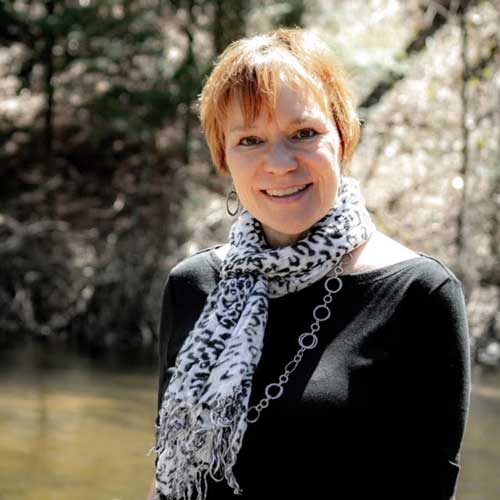 Tricia Frey encourages new writers to "sit down and write."
By Grace Meyer
"While there are a lot of dog books out there, this is one of the best."  ~ The BookLife Prize 2021.
Tricia Frey's memoir River Love: The True Story of a Wayward Sheltie, a Woman, and a Magical Place Called Rivershire, explores redemption, love, and being enough—just as you are. The 249-page memoir also carries a powerful message about the life-altering possibilities that occur when one welcomes a rescue pet into their home and heart.
On the Boardman River, just south of Traverse City, lies a place dubbed Rivershire by its residents. Frey came to Rivershire after buying a home that she envisioned as a vacation spot and an investment opportunity for both her and her sister, Sandra. One day in 2006, Frey noticed movement outside her window and discovered a dog standing in her backyard. As soon as they made eye contact through the window, the dog "took off like a shot to the neighboring property."
The dog, whom Frey named Sheldon, kept coming back to her property where Frey and her sister transformed a shed into a warm shelter for him and fed him daily. The building supplies for the shed took a bit of haggling from Frey and her sister with a store clerk, who was won over by their story of Sheldon. Even with the shed and daily meals, Sheldon remained timid, skittish, and frightened; it took two years before he even let Frey touch him and six more months before he came into her home.
After being Frey's dog for quite some time, she discovered during a visit to the veterinarian that Sheldon had both an enlarged heart and a microchip.
Frey describes sharing Sheldon's story with others even before she knew of his microchip. "People were fascinated that it was two years before Sheldon allowed me to touch him. They'd tell me, 'you have to write his story,' and after I found out he had a microchip, I knew."
Nine months after Frey found out about the microchip, Sheldon died. She asked the veterinarian to scan Sheldon before he was cremated, revealing the information on the microchip which Frey tucked away at the time. Two days later, she began writing the memoir. Then, she decided to contact his former family, and eventually, she learned the rest of his story.
"It took me six years to write the book," Frey said.
After beginning the book, Frey became busy with her job and would often go weeks to months without writing. Then, when sat down to write, there were other problems to face.
"I'd start writing in a different tense," she said.
Frey finally began pushing herself to write whenever she had the time, even if it was only fifteen minutes a day. She now encourages others to do the same.
"I don't care if you only have fifteen minutes. Sit down and write."
In the early stages of writing her memoir, Frey decided to tell side stories which made the book grow to over 90,000 words. Her sister, Sandra, would then read parts of it and say, "I'm losing Sheldon's story here."
Frey agreed and cut over 40,000 words, putting them in a different file to revisit them if necessary. This helped her move the narrative along to become the story it is today.
Frey had long dreamed of writing a book. "Years ago, my cousin Ann asked, "Do you think you have a book in you?'" Frey said.
At that time, Frey didn't know where to start. Then, as Frey puts it, "Sheldon and this magical place I live handed me a story."
Frey's marketing expertise at Centre Ice has led her to promoting her book and eventually, led her to taking a job with promoting books for others with Mission Point Press.
Currently, Frey is working on the River Love audio book in her own voice and the children's version of Sheldon's story. She describes the latter as being a story about Sheldon finding his true home. "Sheldon went on an amazing journey to find me and Rivershire," said Frey. "I know in my heart we were always meant to be together, that Rivershire was where he was always supposed to be. A message came to me one day: 'Bravely go to that place where you are meant to be.' Sheldon certainly did that and I encourage everyone to do the same."
River Love, published by Mission Point Press, is available online and at area bookstores.
Grace Meyer is a senior at Mancelona High School and a second-year in the Front Street Writers program at the Career-Tech Center in Traverse City. She plans on attending NMC in the fall for a degree in Journalism.