By Molly Stadler
Leelanau by Kayak is the perfect book to flip through while lounging on the sofa in the living room of your northern Michigan cottage, and dreaming of your next watery adventure. That's just how author Jon R. Constant intended it to be.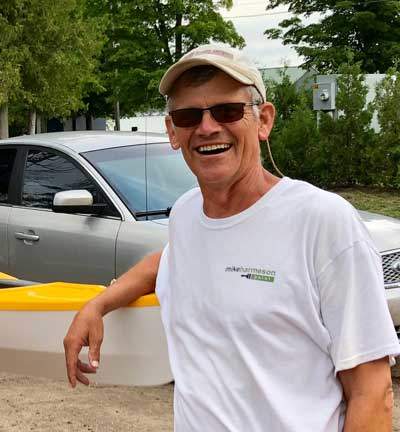 Meet Jon Constant, a retired social studies teacher at Traverse City Central High School and a full-time outdoor enthusiast. Jon tells of his journey kayaking 100 miles of shoreline with his friend Larry Burns through beautiful photographs of the water and scenery of Leelanau County. He also includes a list of supplies he uses and helpful safety tips while detailing the areas he's kayaked.
I caught up with Jon to talk about his book, his writing process, his story, and of course, kayaking.
Molly: Are you from Traverse City or the surrounding area?
Jon: Since 1972, but I grew up in Grand Haven, which is a town very similar to Traverse City's size, kind of a tourist town with some industry and a lot of water. Both Grand River and Lake Michigan are right there. Then I went to Hope College and after graduating, I came to Traverse City.
Molly: So what made you decide to move to Traverse City?
Jon: I was offered a teaching job. I was going into education and a couple of places that I applied for looked very promising. One thing or another happened and I didn't get those positions, and there was an opening up here late in the summer and I came to Traverse City. It worked out great.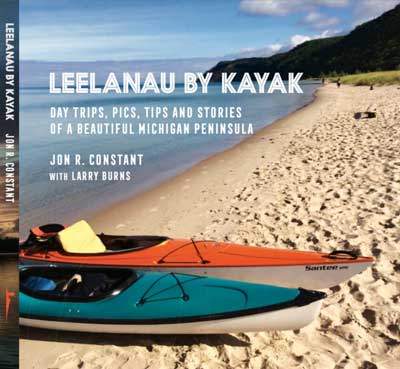 Molly: When did you start getting into kayaking?
Jon: I live on a lake– Cedar Lake just up in Leelanau County. It's about two miles north of the border with Grand Traverse County. So I probably started in the early 1990s, maybe the late 1980s. My first kayak wasn't a real fancy one, but one thing led to another and I upgraded the kayaks as we started to venture further to bigger lakes.
Molly: Do you like kayaking better in rivers or lakes?
Jon: They're both good. A lot of people like doing the rivers. We don't do as many rivers. Our adventures have been mostly on small lakes and in Lake Michigan, but we've done the three rivers.
Molly: Whom do you go kayaking with?
Jon: In the book almost all of the pictures are of Larry Burns. He's the person that is probably the more expert kayaker of the two of us. Larry and I have been friends for over 30 years. He was a counselor at what is now Central High School and I was head basketball coach. He was my first JV coach for a couple years, and he did some of the broadcasting on the radio for the games. He and I are quite a paddling pair.
Molly: Do you or Larry take the photos?
Jon: I've taken pretty much all the pictures, so I'm not in any of them, other than when someone takes one of us standing together. The pictures are usually of just the view or of Larry in front of the view. I've had a couple of iPhones and while the pictures may not be professional, I think they're pretty good.
Molly: What is the best thing about kayaking?
Jon: I kind of like when it's a quiet morning, fairly calm conditions, there's scenery and you're just out there paddling listening to the sound of the water. It's very calming. It's just a good time to reflect. It's a nice contrast to a noisy gym, as I mention in the book. I enjoy the beauty of the water and the scenery and the sky and getting away for a couple of hours. It's very enjoyable.
Molly: How long have you wanted to write this book?
Jon: I really didn't start kayaking thinking there was going to be a be a book. Every year we paddled, I would put together a Shutterfly or Sam's Club Photo Book. They're books of what we did that year. I'd keep one and give one to Larry, and put some of the pictures on Facebook as we made the trips. We've jokingly said maybe we should do a book. Yeah, right. But then a couple years ago we were getting close to doing all 100 miles around the shoreline and I thought about all of the pictures with all the dates, and I didn't think anyone had done that, so I thought maybe we could do a picture book. My wife worked at the public library and knew some of the local publishing places so I floated the idea to Mission Point Press and they had a few different ideas on what I could do beyond just a picture book.
The other thing I would say is: My wife and I would go on tours of homes like Parade of Homes type of thing and we would see a sitting room in a beautiful lake house with a book on the table. One day there was a book called The Trails of M-22 by Jim DuFresne and I thought that I could do something like that, but from the water. I thought that maybe one day I could have a book in someone's reading nook or on their coffee table.
Molly: What is your favorite place you've kayaked?
Jon: There are a lot of candidates. I think Larry and I both would agree on out in front of the Sleeping Bear Dunes by the main dune. There's a wall of sand and it's 400 feet high and maybe two miles long and it's just massive, and you've got the expanse of Lake Michigan. To the north you've got the Manitou Islands. That's probably the number one gem, but Pyramid Point, the Empire Bluffs, and the Leland Clay Cliffs are all a close second.
Molly: So if you could kayak anywhere in the world where would be your dream place to kayak other than Leelanau County?
Jon: It's fairly close, but I'd like to do Pictured Rocks. I've heard people say wonderful things about it, but I've never been there. Larry has kayaked out West among the orcas. That would be fun, but I'm not huge on camping.
Molly: What was the writing process like?
Jon: It was going to be a picture book, but I had help from my editor, Heather Shaw. She guided me on writing about each trip and each lake. I'd get up early in the morning with the help of my cat, who always wakes me up. So, I'd sit down and let it flow. Heather did a great job editing. My friend's wife also helped correct some of my grammar mistakes in my manuscript. I like how it came out. From the time I met with Mission Point Press and got an idea of how to write it, it was a couple months to get done. I'd like to do a second edition because there are some places we've gone that I'd like to add.
Molly: Do you have anything you'd like to add?
Jon: If anybody has the desire to write a book, find out something that you're interested in and care passionately about. I care about the beauty of the area and kayaking, and I wanted to leave a legacy. We would go out and say, "Wow this is just so amazing. Why should it just be us seeing it?" You don't have to be a great writer if you get enough help and write about what you care about.
Editor's Note: Molly Stadler is an intern at the National Writers Series and a student of the Front Street Writers program, taught at the TBA-ISD Career Tech Center. She also attends Grand Traverse Academy, where she's in her senior year. She plans to study social sciences at Wayne State University in the fall. The Front Street Writers program is an intensive, writing workshop held in collaboration with the National Writers Series.