Jerry Dennis & Dave Dempsey
Jerry Dennis has lived most of his life in northern Michigan and has earned his living as an independent writer since 1986. His essays, poems, and short fiction have appeared in more than 100 publications, including The New York Times, Smithsonian, Audubon,  American Way, Gray's Sporting Journal, and others. Jerry has been awarded many honors, including the Michigan Author of the Year Award and the Great Lakes Culture Award from Michigan State University. He is on the permanent faculty of the University of Michigan's Bear River Writers Conference, where he teaches creative non-fiction and the sense of place. He and his wife, Gail, live near the shore of Lake Michigan not far from Traverse City, Michigan.
Dave Dempsey has helped shape conservation and Great Lakes policy for 30 years and is an author and co-author of six conservation books. He is currently a policy advisor for FLOW, a nonprofit environmental organization dedicated to protecting Great Lakes waters using the public trust doctrine. He has served more than thirty-five years in environmental policy, including positions with the Michigan Environmental Council, International Joint Commission, and Great Lakes Fishery Commission. In 2009, the Michigan Center for the Book, the Michigan Library Association and Sleeping Bear Press gave Dave the annual Michigan Author Award.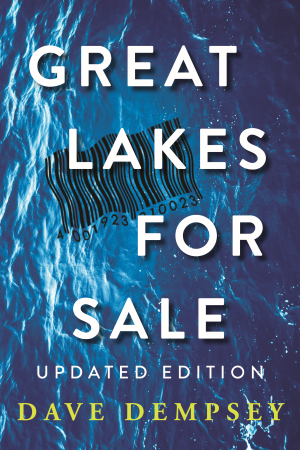 On August 25th, two of Michigan's greatest environmental authors—Dave Dempsey and Jerry Dennis—will join together on stage to talk about protecting the Great Lakes, the threats our water supply are facing, the dangers of climate change to our natural surroundings, and other topics covered in their books Great Lakes for Sale, Up North in Michigan and The Living Great Lakes.
In Great Lakes for Sale, updated in 2021 by author Dave Dempsey, we see how our Great Lakes are in danger of being privately exploited on a large scale by those with priorities other than stewardship. The Great Lakes are once again a target for the drought-ridden West, which is facing climate change, massive fires, and shrinking water supplies. And in a potentially far bigger threat, Wall Street is creating markets that could lead to the trading of freshwaters as a commodity like corn or oil. Great Lakes for Sale is an important part of the effort to remind people why the commercialization of Great Lakes water is a dangerous—and constant—threat.
Similarly, Jerry Dennis's new book of essays, Up North in Michigan, looks at northern Michigan in a state of change. Over the past half-century, Michigan's landscape has been bulldozed, subdivided, and built upon. Climate change warms the water of the Great Lakes at an alarming rate—Lake Superior is now the fastest-warming large body of fresh water on the planet—creating increasingly frequent and severe storm events, altering aquatic and shoreline ecosystems, and contributing to further invasions by non-native plants and animals.
It's a natural extension of his classic book The Living Great Lakes, a bestselling account of Dennis' epic journey on The Malabar, a two-masted schooner he helped sail from Lake Michigan to Bar Harbor, Maine. Released in 2003, the book received the 2004 Sigurd Olson Nature Writing Award, the Best Book of the Year from the Outdoor Writers Association of America, and was also a finalist for the Great Lakes Booksellers Association's Book of the Year.
What can we do about the threats facing the Great Lakes? How can we protect the waters that surround our Pleasant Peninsula? And how can we ensure the security of our drinking water and aquatic industries for generations to come? Join us on Thursday, August 25th to learn more.
If you enjoyed our recent events with Dr. Robin Wall Kimmerer or Peter Heller, you'll definitely want to be in the audience for this one!
PRICING: Livestream tickets are available through the National Writers Series website, while in-person tickets can be purchased through the City Opera House.
Livestream tickets: Watch with friends and family from the comfort of your home for $12.50 per ticket.
In-Person tickets:
Tier 1: $25
Tier 2: $15
Students (18 and younger with a valid school ID): $5
Additional fees apply when purchasing online.
Guest Host | Sheri McWhirter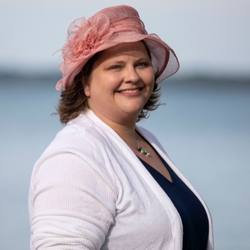 Sheri McWhirter is a longtime environmental journalist with more than 20 years of experience, including more than 16 years in Michigan. She lives in Traverse City where she works as a climate and energy journalist for MLive, a media company with eight newspapers printed across the state.
Photo credit: Mike Krebs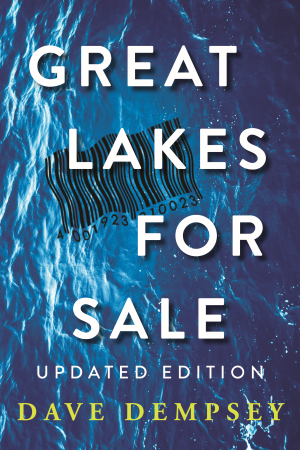 John & Hilda Frey
Jim and Diana Huckle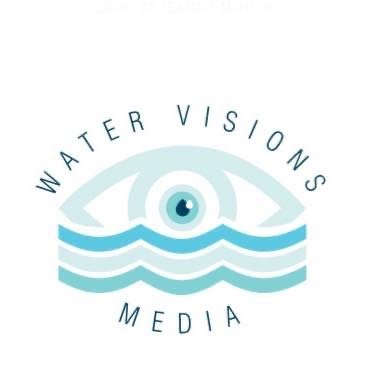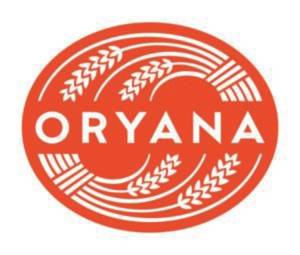 Reception Sponsor:
Oryana Community Co-Op
This activity is supported in part by the MICHIGAN ARTS & CULTURE COUNCIL and the NATIONAL ENDOWMENT FOR THE ARTS.
Supporting Media Sponsors