David Eberschoff,
author of The Danish Girl

Imbolo Mbue • Fri, Mar 19, 2021
Imbolo Mbue is the author of the New York Times bestseller Behold the Dreamers, which won the PEN/Faulkner Award for Fiction and the Blue Metropolis Words to Change Prize and was an Oprah's Book Club selection. Named a notable book of the year by The New York Times and The Washington Post and a best book of the year by close to a dozen publications, the novel has been translated into eleven languages, adapted into an opera and a stage play, and optioned for a movie. A native of Limbe, Cameroon, and a graduate of Rutgers and Columbia Universities, Mbue lives in New York City.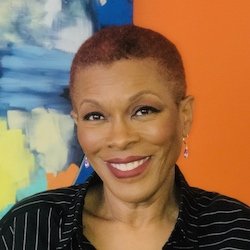 Guest host Rochelle Riley is the director of Arts and Culture for the city of Detroit. She is a former award-winning columnist for the Detroit Free Press. She's written two books and tours the country with The Burden, speaking about the burden that America bears because it refuses to deal with the aftermath of slavery. She's bringing her latest book, That They Lived, to the National Writers Series May 13.