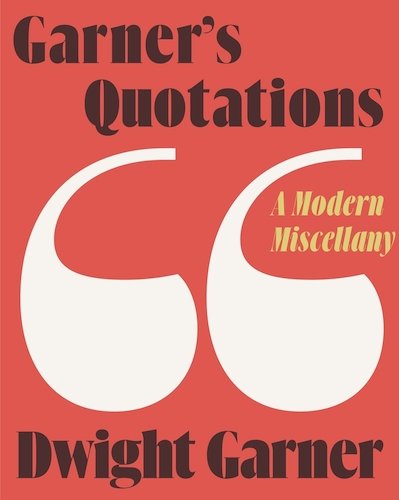 For many years, Garner was an editor for the New York Times Book Review. His essays and criticism have also appeared in The New Republic, Harper's, Slate and elsewhere. He is a founding editor of Salon.
While still a student at Middlebury College, Garner wrote book criticism for The Village Voice, music and theater criticism and was a stringer for the New York Times. He also is the author of Read Me: A Century of Classic American Book Advertisements. He began keeping his commonplace book while still in high school. "Into it I've poured verbal delicacies, 'the blast of a trumpet,' as [Ralph Waldo] Emerson put it, and bits of scavenged wisdom from my life as a reader. Yea, for I am an underliner, a destroyer of books, and maybe you are, too.'
Dwight Garner, a book critic with the New York Times, is sharing other writers' words in his new book, Garner's Quotations: A Modern Miscellany.
He calls this new collection selections from his "commonplace book." "It's where I write down favorite sentences from novels, stories, poems and songs, from plays and movies, from overheard conversations," he writes in the foreword. "Lines that made me sit up in my seat; lines that jolted me awake. About once a year, I'll say something I think is worthy of inclusion. I mostly end up deleting those entries."
He's admittedly not usually a big fan of books of quotations, but says Garner's Quotations "is an attempt to break with the convention." He has included just a small part of "the material I've hoarded" and has arranged them "by feel," not category. And the book is, he says with glee, a bit coarse, with more blasphemy than the usual books of quotations.
The book is a rollicking, irreverent, amazingly alive selection of unforgettable moments from forty years of wide and deep reading. Garner's Quotations is like no commonplace book you'll ever read. If you've ever wondered what's really going on in the world of letters today, this book will make you sit up and take notice. Unputdownable!
Guest Host | Doug Stanton
Doug Stanton is a #1 New York Times-bestselling author and cofounder of the National Writers Series.
Stanton is the author of In Harm's Way and Horse Soldiers. His writing has appeared in Esquire, The New York Times, TIME, the Washington Post, and other national publications where he has been a contributing editor. Stanton attended Interlochen Arts Academy, Hampshire College, and received an MFA from the Writers' Workshop at the University of Iowa. He lives in Michigan with his wife, Anne Stanton, executive director of the National Writers Series, and their children.