Monday, July 7, 2014
Presented in partnership with The National Cherry Festival
Listen:
[audio:https://nationalwritersseries.org/wp-content/audio/nws_dianagabaldonx.mp3]
MISS THE EVENT? HERE'S THE RECAP
by Jacob Wheeler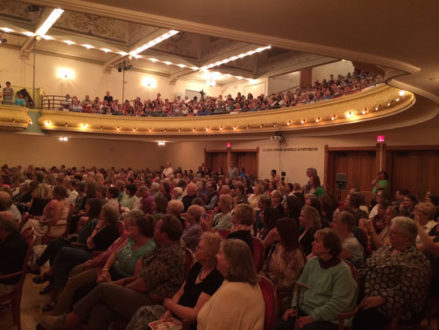 Diana Gabaldon invoked raucous hoots and applause from a sold-out audience of adoring fans at the National Writers Series in Traverse City on July 7. The event, which coincided with the National Cherry Festival and marked the crescendo of Northern Michigan's summer tourism season, attracted lovers of her Outlander series from near and far. People flew from Florida and drove from Minnesota; men wore kilts to model themselves after character Jamie Fraser, and one woman even postponed her Caesarian section by a day so she could attend.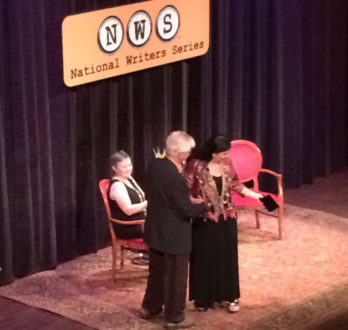 Traverse City mayor Michael Estes presented Gabaldon with a symbolic "key to the city." And before the bestselling author sat down for a conversation with the evening's guest host, Deborah Leonard (executive director of the Great Lakes Independent Booksellers Association), the audience shrieked in delight as it watched a sneak preview of the "Outlander" TV series, which is currently filming and will premier on Starz later this year.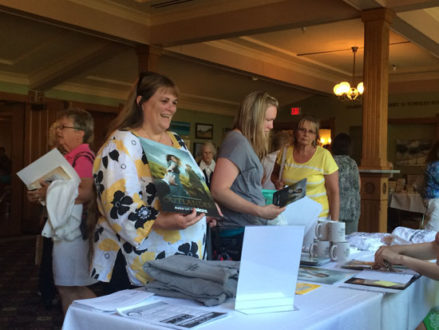 Gabaldon is known best for her wildly popular Outlander series, which has sold more than 20 million copies worldwide and has been published in 26 countries and 23 languages. Her eighth and latest installment, Written in My Own Heart's Blood (2014) brings us to the New World as her characters travel from 18th century Scotland to the battlefields of revolutionary Philadelphia.
She has described her series as "big, fat, historical fiction, a la James Clavell and James Michener" but, when asked by Salon.com, was unable to summarize Outlander in 25 words or less. Salon took the task upon itself and called the series "the smartest historical sci-fi adventure-romance story ever written by a science Ph.D. with a background in scripting 'Scrooge McDuck' comics."
Gabaldon told the National Writers Series audience that her books have been described under the following genres: historical fiction, historical nonfiction, history, fantasy, mystery, romance, gay and lesbian fiction, military history, and horror. She raised these discrepancies once with a bookstore owner in London.
In case anyone in the Traverse City audience wasn't familiar with Outlander (doubtful), Gabaldon offered a dramatic, two-minute primer on the story: In 1946, just after the Second World War, an English nurse named Clara goes to the Scottish highlands with her sweetheart, who recently returned from the battlefield. But she disappears, falls into a time warp and travels back to 1743, when marauding clans dominate the highlands. A time and place where a proper English woman should never go, particularly when dressed in (skimpy) 1946 attire. She meets and elopes with a dashing young clansman named Jamie Fraser.
With each mention of Jamie, the handsome, kilt-wearing man-beast, the mostly-female National Writers Series crowd openly swooned. For sexual energy dripped from the roof and balcony of the City Opera House on this steamy July night.
Where did Jamie Fraser come from, Gabaldon was asked. "Did he spring like that out of your mind?"
"He is tall with red hair, like my children's father," the author betrayed with a smirk. "I've been married to (Jamie) for 42 years." Gabaldon's husband Doug Watkins once confronted her about his likeness to the hero in Outlander. "Based on page 43, the whole world knows what I look like without clothes on!" he told her.
"Physically, he does look a lot like my husband," she admitted.
A German literary journalist once asked Gabaldon about the appeal of a man in a kilt. Exhausted and caught off guard after a long book tour, she slipped and answered, "I suppose it's that you could be up against the wall in a minute!" The journalist ran with the quote, and when Gabaldon's publicist mailed her that press clipping, the post-it note read, "I don't know what you told this man, but I think he's in love with you!"
Gabaldon didn't hide the ability of an author to unleash sexual energy in the reader.
"Being a writer is the second oldest profession," she joked, alluding to prostitution. "We have an advantage over the oldest profession. As a writer, you can do it to a lot of people at once!"
The National Writers Series conversation also steered away from the sensual and meandered through intellectual topics. Gabaldon has three degrees: a B.S. in Zoology, a M.S. in Marine Biology and a Ph.D. in Ecology. But being a scientist is not that different from being a writer, she said.
"They are two sides of the same coin," said Gabaldon. "They both require making order out of chaos. In scientific chaos, it's more about the observations you've made and the experiences of others in the field. When you do art, you use your own internal chaos. Your novel or sculpture is your hypothesis and you unleash it on the public."
More about Diana Gabaldon

Author of the wildly popular Outlander series
More than 20 million copies sold worldwide
Historical fiction, à la Clavell and Michener
The Outlander TV series premieres on Starz in 2014
The adventure began in 1991 with Diana Gabaldon's first novel, Outlander, which became a wildly popular historical, sci-fi, adventure, romance, non-fiction, and fantasy series.  Readers have been hanging on the edge of their seats ever since for the next thrilling installment of Claire and Jamie's story. The seven book series has sold more than 20 million copies and has been published in 26 countries and 23 languages, worldwide.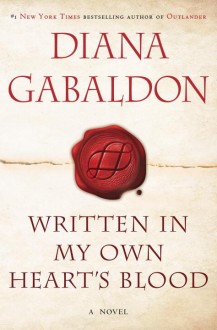 In the eighth and latest installment, Written in my Own Heart's Blood, Jamie and Claire's story continues as it follows Gabaldon's characters through revolutionary Philadelphia and onto the battlefields, as Jamie makes a dramatic return to Claire's side, a new army sweeps the city, and romance and violence brew. This enthralling adventure carries us through betrayal and redemption, death and danger, and through the perilous waves of a family's loves and loyalties.
In essence Gabaldon describes her series as "Big, Fat, Historical Fiction, à la James Clavell and James Michener," that consistently defies being summarized in 25 words or less. Salon.com describes it as "The smartest historical sci-fi adventure-romance story ever written by a science Ph.D. with a background in scripting 'Scrooge McDuck' comics."
In addition to the Outlander Series Gabaldon has also written several books in a sub-series featuring Lord John Grey in the Lord John Series, a collection of short fiction, and a graphic novel titled The Exile. She is also working on a contemporary mystery series, set in Phoenix. Her book A Breath of Snow and Ashes, won a Quill Award and the Corinne International Book Prize.
A TV series based on the Outlander series is currently filming and will premiere on Starz in 2014.
Galbadon has earned three degrees: a B.S. in Zoology, a M.S. in Marine Biology, and a Ph.D in Ecology.
The National Writers Series is pleased to present an evening in conversation with another one of America's finest authors during the National Cherry Festival. Previous guests include Mitch Albom, Janet Evanovich, Mario Batali and Elmore Leonard.