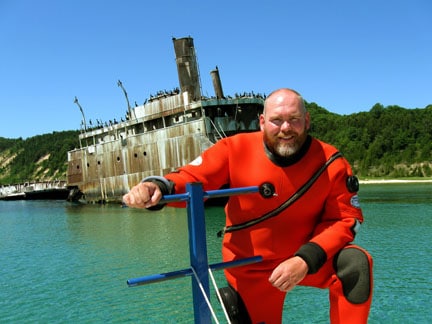 Ross Richardson – deputy, diver, and discoverer.
AUTHOR AND SHIPWRECK HUNTER Ross Richardson is often thought of as the underwater Indiana Jones of the Great Lakes Region. In 2010 he discovered the wreck of the treasure ship Westmoreland in Lake Michigan, which is considered one of the most sought after shipwrecks in the Great Lakes. He has dedicated the last two decades of his life to researching, discovering and documenting the shipwrecks and missing aircraft of the Michigan Region.
Richardson, a Benzie County Sheriff's Department special deputy, volunteers his time as a librarian at the Almira Township Library, located in downtown Lake Ann, Michigan. He is also is a volunteer recovery diver for the Benzie Area Public Safety Dive Team.
Richardson has penned the books, The Search for the Westmoreland, Lake Michigan's Treasure Shipwreck and Still Missing, Rethinking the D.B. Cooper Case and other Mysterious Unsolved Disappearances. He also operates the popular website, www.michiganmysteries.com, which is dedicated to missing persons, missing aircraft and missing ships.
He lives in Lake Ann with his wife Jennifer and their son, Mason.

How did you become a writer?
Out of necessity, really. After I discovered the Westmoreland, I envisioned a comprehensive book detailing the ship's legend, history and discovery. I had two problems though, I didn't have much writing experience and I was uncomfortable with writing about myself. I met with a number of people to see if there was any interest in co-writing or ghost writing the story, but no one was interested. The last person I approached was the late Pete Sandman, a prolific writer and author from Frankfort, Michigan. Pete looked at the amount of research material I had collected over the past decade and told me I had more than enough material for a book and that I should write it myself.
Over the next nine months, Pete guided me through the process of creating a book. At the end, voila, I was an author. Sadly, Pete passed away unexpectedly March 30, 2013, but he leaves behind a legacy in the books he's written and the people he's helped.
How do you write? What is your process?
One asset I have is vision. After I plot out the direction of a project, I become obsessed with researching and amassing as much information as I can about the subject, which sometimes isn't easy because I'm dealing with obscure events that were barely recorded or may have gotten little attention when they occurred.
I create an outline early in the process so I know the direction I'm heading, but sometimes research produces information that takes things in a different direction. So though I have a direction, I never really know what the destination is until the project is completed.
Also, I write in spurts. Sometimes I'll spend a whole weekend doing nothing but writing, and sometimes I won't write anything for weeks. I've learned that when I'm in the zone it's hammer time and when I'm not in the zone, don't force it. For me, at this point in time, getting to the zone seems to be an involuntary action.
Who are your favorite authors?
Frederick Stonehouse, Malcolm Gladwell, Clive Cussler and Peter Sandman
What authors have inspired you?
Frankfort author Pete Sandman is the reason I became an author. His fingerprints are all over my first book. Every time I stumbled he helped me to my feet and sent me in the right direction. He mentored me, guided me…as I write this right now my eyes are getting wet just thinking about him.
Doug Stanton is another author who early on had quite an impact on me. I emailed Doug with a couple questions soon after deciding to write the Westmoreland book myself. At best, I expected a brief email response from him. Instead, Doug picked up the phone and called me within an hour of receiving that email and gave me some fantastic advice. He was positive, supportive and really gave me the shot of confidence that I needed at that time.
What books are on your bedside table?
Shipwreck of the Straits of Mackinac by Dr. Charles Feltner and Jeri Feltner
The Great Lakes Ship Building Era by Captain H.C. Inches
Shipwrecks of the Sleeping Bear by Steve Harold
My 90 Years in the Northwoods by Bernie Griner
King Strang by Robert P. Weeks
What writing projects do you have planned next?
My next book is going to feature obscure and interesting Northern Michigan maritime history coupled with modern day shipwreck hunting and diving adventures. I recently discovered a number of virgin shipwreck sites in a remote area in Northern Lake Michigan and they will be featured in this book. The working title of this book is The Summer of Virgins.
What advice do you have for young writers?
First off, write what you are passionate about. If you don't know what your passion in life is, then spend some serious time figuring it out. That will put soul in your writing.

His latest book
Richardson's book, Still Missing, Rethinking the D.B. Cooper Case and other Mysterious Unsolved Disappearances (softcover, $14.99, Terra Mysteria Media) recounts three tales of unusual disappearances that occurred in the Michigan region. The Andaste was an old freighter that vanished in Lake Michigan in 1929. Half of the dead crewmembers ended up washing ashore a week later near the Andaste's home port. It's a very creepy story, says Richardson.
On July 4, 1977, John and Jean Block took off from the Detroit Area in their Cessna airplane. They were heading north to Luzerne, which is about 25 miles east of Grayling, Michigan. Somewhere along their flight path the Blocks simply vanished. Though their route was entirely over land, the Blocks and their aircraft remain missing to this day.
On October 29, 1969, Dick Lepsy vanished. His car was found at Cherry Capitol Airport in Traverse City a few days later. He was never seen or heard from again. The most unusual detail of this disappearance is Dick Lepsy's nearly identical appearance to the D.B. Cooper skyjacking suspect. The D.B. Cooper skyjacking is the only unsolved skyjacking in U.S. history, as authorities were not able to identify the Cooper suspect. Dick Lepsy is hands down the best D.B. Cooper suspect yet. The resemblance is uncanny, believes Richardson.
Still Missing is available at local bookstores, www.michiganmysteries.com and the eBook is available on Amazon.com.