Priscilla Miller – a humanitarian with the soul of a writer
Priscilla Miller didn't begin her writing career until she and her husband Bill, retired, moved to northern Michigan, and settled in the quaint little town of Alden. She says, "I have always had the soul of a writer, but over the years I was simply too busy raising five children and working to accomplish much writing."  Occasionally, a letter to the editor or one of her poems might be published in a local paper or newsletter.  In 2004, her feature story, "Dear Little Angel Girl… Letters Home" based on letters her father sent her only days prior to his untimely death while stationed at a Naval Training Center in 1943 made the front page of the Traverse City Record-Eagle Father's Day Edition of the Northern Living section, and her writing career began. Within a short period of time, feature stories and articles began appearing in the Antrim Review, Prime Time News, Record-Eagle, Northern Express, and the Elk Rapids News.
Suffering with Wet Macular Degeneration (the leading cause of blindness in people over the age of 50), Priscilla began receiving monthly eye injections that has slowed the progression of the disease. Now faced with a new sense of urgency, she wrote and published her first book, Reflections at the Water's Edge: An Illustrated History of the Alden Area, featuring a collection of memories from longtime Alden residents along with photographs provided by them with others from the archives of Alden's Depot Museum.
Much of Priscilla Miller's own life reads like a movie script: adopted as an infant, orphaned at the age of two, raised by a verbally abusive illiterate grandmother. With no one to help her, she often struggled with homework assignments and suffered feelings of being different from other children. Her love of reading provided a welcome escape from her lonely childhood, transporting her into a world where she lived vicariously with a real family via Laura Ingalls Wilder's Little House books. Priscilla's writing ability first became evident, when a fifth grade teacher had difficulty believing a theme paper written by her had been produced without the help of an adult.
Married two days after high school graduation and the mother of four sons and an adopted daughter by the age of 25, she became divorced in her early thirties. Benefitting from the childhood discovery of her adoption papers found in a box once belonging to her deceased parents, she was able to locate her birth mother and subsequently developed a loving relationship with her. Drawing on these rich life experiences and others, she wrote and had published: Angels On My Doorstep, The Answer and A Birthday Miracle, in the Chicken Soup for the Soul series.
Her story about a WWII Bronze Star recipient from Alden who wished to attend his 70th Infantry Division Reunion, led to a "Get Guy To Oregon" campaign and fundraiser. As a result, not only did he get to his reunion, but also $500 in excess funds went to Habitat For Humanity and $2,000 to the Intrepid Fallen Hero's Fund.
n 2008, another article written by her was published in the Elk Rapids News. It resulted in TV 7&4 naming her their "Hometown Hero" for spearheading a fundraiser for a baby needing a triple organ transplant. She served in a volunteer capacity as the Antrim County High Tea for Breast Cancer Prevention's Publicity Chairman for four years. She has organized Alden's Memorial Day Parade since 2009, when she learned the parade was being discontinued.
Recently, another of her feature stories appeared in the Elk Rapids News about an adopted military service dog. A reunion between the dog and the handler he served with in Afghanistan resulted when the handler discovered the article online. When Hollywood producers learned of the reunion they flew a film crew into Traverse City to tape a television episode known as "Saving Private K-9" for the Sportsman's Channel.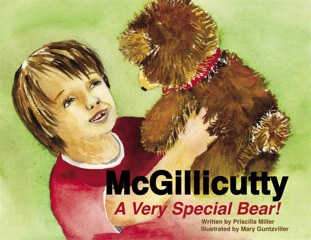 By writing her first children's book, McGillicutty: A Very Special Bear, she fulfills a promise made over 40 years ago to her young son, that "someday" she would write a story about "McGillicutty," his unusual looking teddy bear. Her little story, featuring beautiful full color illustrations by award-winning artist Mary Guntzviller, comes at a time when the issue of bullying has become a major concern. The book conveys a message to young children that it's "okay to be different."
How did you become a writer?
Knowing I've not had any formal training, I've come to believe we are all born with certain God-given abilities, mine happens to be writing. Over the years, I have met several would-be writers who have become so caught up in the researching, or have become afraid to start writing, that they never get anything accomplished.
How do you write? What is your process?
I usually don't have a preconceived concept of how I'm going to write a particular story. I sit at my keyboard and let the story happen. When finished, I go back, re-read it, then utilizing "cut and paste" begin "tweaking" it, often moving a sentence or paragraph to a different area of the story.
Who are your favorite authors?
Laura Ingalls Wilder, Louisa Mae Alcott, Margaret Mitchell, Ann Rule, Richard Paul Evans and Robert James Waller. I believe it was Laura Ingalls Wilder's descriptive style of writing that first inspired me to write.
What writing projects do you have planned next?
A second children's book, Tootsie Toes, is waiting to be illustrated. My next writing project may be a book based on stories and anecdotes about Remmy, the retired military service dog previously mentioned.
What advice do you have for young writers?
Speaking as a person who wasted years wanting to write, but who always lacked enough confidence in her own ability to do so, my advice to young writers would be: Stop procrastinating and just do it!
Herlatest book information
McGillicutty: A Very Special Bear is available at Horizon Books in Traverse City, Petoskey and Cadillac; also at The Nature Connection in Elk Rapids, Uniquely North in Bellaire, Spencer Creek Trading Co. in Alden, Adams Madams in Central Lake, and online at www.averyspecialbear.com. McGillicutty's Facebook page can be found at "A Very Special Bear."