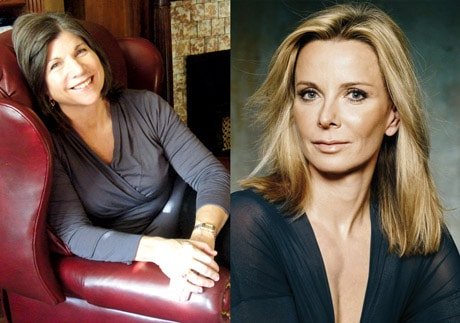 May 14, 2012 at 7:00 pm, City Opera House

The Last Word: Anna Quindlen & Susan Casey
By Beth Milligan
with additional reporting by Allison Peters
"There's something seductive about the thing we believe we cannot do, the achievement that seems out of reach. I imagine it's what keeps people climbing mountains or surfing during storms, that sense of going to the edge of possibility and then over it successfully."
Anna Quindlen, Lots of Candles, Plenty of Cake
At first glance, Anna Quindlen and Susan Casey seem to inhabit starkly different worlds. Susan writes, in such works as New York Times best-selling books The Wave and The Devil's Teeth, about people and places on the fringes of society: killer great white sharks, mysterious and foreboding islands, extreme big wave surfers, mariners who've survived harrowing 100-foot seas. Anna, on the other hand, has described herself as a writer "fascinated by the normal places in the middle, the places where regular people live." She's earned a devoted national following for her incisive Pulitzer Prize-winning columns about motherhood, family, marriage, careers and women, and has tackled these topics in such best-selling novels as Black and Blue and Every Last One.
But as the above quote from Anna's new memoir attests, these two authors have more in common than first meets the eye. They are bound by a mutual respect and admiration for the courage of ordinary individuals, who achieve extraordinary results – whether it be conquering the ocean's largest waves or escaping an abusive marriage – through sheer force of will, and through deep reservoirs of passion and love.
Courage was a topic Anna and Susan discussed extensively during their electrifying stage conversation at the National Writers Series on May 14. While humorously recounting how her personal trainer once tried to coax Anna into doing a headstand, Anna recalled her fearful response: "Oh, I can't do that. I've never had good balance." To which her trainer gently responded: "That's just a little story you've told yourself." The little stories we tell ourselves, Anna realized, are myths rooted in fear; rarely do they reflect our reality or potential. Writing is an exercise that requires us, in order to do it well, to exorcise these demons of fear.
"You have to be confident," she told the audience. "It's the end of everything, if you're afraid." Susan agreed, noting that fear is "just information" that lets us know we're entering unfamiliar territory. Remembering her time swimming with sharks or staring down building-tall waves, Susan earned a big audience laugh when she observed, "To me, fear is a signal I'm about to have fun."
On top of "a-ha!" advice for conquering fear, the authors had plenty of tips for eager audience members on how to become better writers.Anna, echoing her remarks earlier in the day to high school students during a visit she and Susan made to Traverse City West Senior High School, exhorted writers to read their own work out loud. "You will be amazed what the eye will forgive that the ear will not," she said. Anna also noted – circling back to the subject of fear – that many writers are terrified of writing the first sentence, lost as to how to tackle a blank piece of paper. "Let the first sentence be clay, not marble," was her sage advice on this issue. Susan advocated for writers using their personality to their advantage and finding their own unique style: "Find the authentic chord within you – your authentic voice."
Interspersed with these nuggets of wisdom were crowd-pleasing anecdotes from the authors about their personal lives, such as the time Anna got the call from Oprah Winfrey (whose voice Anna described as "somewhere between Toni Morrison and God") informing her Black and Blue was going to be an Oprah Book Club pick, or the day Anna's son came home from college wearing a pro-feminism t-shirt Anna had bought him…because, he informed his mother, "chicks dig it." Anna also received an enthusiastic audience response when she answered a question from Susan about whether feminism was under attack in America. "You can't make the mistake of confusing Washington with America," she said, to whistles and cheers, adding: "The thing about freedom is you can't go back. We're not going to be able to go back on this issue. So no – I'm not worried about feminism." (Speaking of Washington – one of the most surprising moments of the evening came when Anna revealed that, in appearing at NWS that night, she'd had to pass on attending Barnard's commencement ceremony…featuring special guest speaker President Barack Obama. More than one grateful audience member emotionally thanked her for doing so at the book signing later.)
Celebrating courage, personal triumph, perseverance, progress, love, creativity…these were the hallmarks that defined Anna and Susan's lives and works, as well as their NWS conversation. Along the way, there was still room for whimsy and light-hearted banter. "What do you know for sure?" Susan asked Anna in one serious moment, echoing Oprah's famous interview question to her guests. Anna paused, then in a winking voice, answered: "That chocolate is good, and women are great." After watching these two fearless women share the stage, we couldn't agree more.
---
Event Details
One of America's favorite journalists and best-selling novelists, Anna Quindlen, took the stage with special guest host, Susan Casey, NY Times best-selling author of The Wave and editor-in-chief of O Magazine.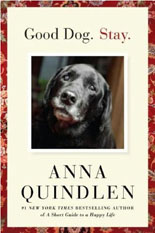 Her dog, Beau, taught her how to live life. And her mother's death influenced many of her novels and books. Anna Quindlen, beloved by readers for her portrayals of families and life lessons, is a journalist, award-winning columnist and best-selling author of Good Dog. Stay, Object Lessons, Rise and Shine, Blessings and One True Thing, which was adapted into an Oscar-nominated film starring Meryl Streep and Renée Zellweger.
Anna was the third woman to ever serve as a New York Times' Op-Ed columnist; she won the Pulitzer Prize for Commentary in 1992 for her column "Private and Public." She also penned the popular "Last Word" column for Newsweek from 2000 to 2009. In addition to her journalistic success, her electrifying novel, Black and Blue, about a woman's escape from her abusive husband, was selected as an official Oprah Book Club pick in 1998. Now her memoir, Lots of Candles, Plenty of Cake (published May 1), offers a humorous and heartfelt look at her life and the lives of women, from girlfriends to marriage to parenting and more.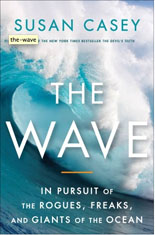 Anna will appear on stage for a revealing discussion about her life and work with special guest host Susan Casey, O Magazine's editor-in-chief. Casey is the New York Times best-selling author of the critically acclaimed books The Devil's Teeth and The Wave. She has been a featured guest on programs including The Daily Show with Jon Stewart, The Oprah Winfrey Show, Charlie Rose and Conan. Both women have spent their careers courageously exploring and exceeding boundaries. Their conversation will be sure to chart new territory.
---
Anna Quindlen in Newsweek
Every other week, millions of readers turn to the back page of Newsweek for Anna Quindlen's perspectives on events of the day and issues of family, work, education and social justice.