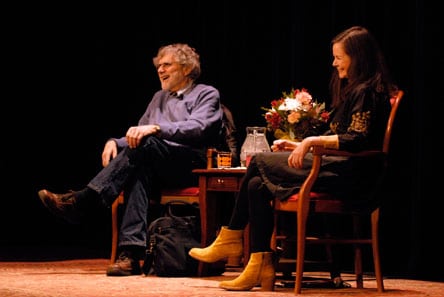 Thursday, April 5, 2012 at 7:00 pm
City Opera House
The Last Word: Alan Cheuse and Geraldine Brooks
By Beth Milligan
With additional reporting by Allison Peters
Watch: An Evening with Alan Cheuse and Geraldine Brooks on UpNorthTV
Listen: An Evening with Alan Cheuse and Geraldine Brooks [audio:https://nationalwritersseries.org/wp-content/audio/Geraldine_Brooks_NWS.mp3]
An enthusiastic audience greeted authors Alan Cheuse and Geraldine Brooks at the National Writers Series, Thursday, April 5th at the City Opera House. The authors discussed the intricacies of writing historical fiction, shared reading recommendations for audiences (The Art of Fielding by Chad Harbach, and Carry the One by Carol Anshaw both got the thumbs up), and even exchanged a humorous and (slightly) x-rated story about Warren Beatty. It was an evening of great insights, big laughs and two unforgettable readings by two acclaimed authors that TC audiences won't soon forget!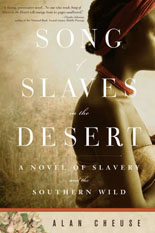 If you missed it, Alan is known as NPR's "Voice of Books" and has authored several novels, including his most recent Song of Slaves in the Desert. Brooks is a Pulitizer prize-winning Australian author and journalist who has also authored several critically acclaimed books, including "March," a novel inspired by Little Women. Check out their books at the local bookstores!
About the event: Alan Cheuse, National Public Radio's "Voice of Books" appeared with special guest Geraldine Brooks, Pulitzer Prize-winning author of March.
National Public Radio's acclaimed "Voice of Books" Alan Cheuse is a master of words, both his own and others. As a book critic, Alan appears regularly on NPR's "All Things Considered" and has served as a fiction judge for the National Book Award. As an author, Alan has published four novels, three collections of short fiction and the memoir Fall Out of Heaven. His short fiction has appeared in publications including The New Yorker, Ploughshares and The Antioch Review. Alan's latest novel, Song of Slaves in the Desert, traces the thread of slavery from 1500s Timbuktu up to the Civil War, exploring one man's struggle with the legacy of slavery and the loyalty of family.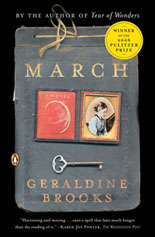 Alan will be joined on stage by friend and fellow author Geraldine Brooks for an entertaining discussion of their lives and works. Brooks, an Australian journalist and author, has written several international best-sellers including Nine Parts of Desire, Year of Wonders and People of the Book. She won the 2006 Pulitzer Prize for March, a riveting parallel novel to Louisa May Alcott's Little Women told from the point of view of the March family's absent father. Two smart literary novelists, one captivating discussion about life and letters.