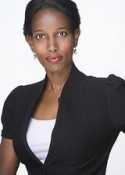 Anne Stanton wouldn't take no for an answer when it came to bringing Ayaan Hirsi Ali to the National Writers Series.
"I wrote her administrative assistant one pleading letter after another," said Stanton, who was determined to snag the Somali-born activist, writer and politician known for her views critical of Islam and its treatment of women after reading her New York Times best-selling autobiography "Infidel." "I sent her emails over a period of probably seven months."
Hirsi Ali will headline the series on Thursday, Oct. 11 at the City Opera House. She'll be interviewed by Jack Segal, a former senior political advisor to the NATO Commander overseeing the Afghanistan conflict, in a program co-sponsored by Northwestern Michigan College's International Affairs Forum.
"I think Ayaan, whether you agree or disagree with her, is so strong," said Stanton, co-founder of the series with her husband, Doug Stanton, and friend Grant Parsons. "What I love about her is how tough she is. She went from this little rural area in Somalia to being a Dutch legislator. To escape her forced marriage — she was supposed to be joining the husband in Canada — she just gets off a plane in (the Netherlands) and makes up a story so she doesn't get sent home.
"What she has going for her is complete passion and belief in herself and then she turned around and helped a lot of other women … I think her personal story is really powerful. I think it's rare to be raised as a Muslim and to break out of it and realize that some of this is really nonsense. Some of it is structured oppression."
Now 42 and living in the U.S. under the shadow of death threats, Hirsi Ali continues to speak out against oppression justified by religion and culture. One of the latest examples, she said, is the recent violence at the U.S. Embassy in Libya that killed ambassador Christopher Stevens and three other Americans. The attack, and similar attacks in other Muslim countries, ostensibly was in protest of a crudely made film posted on the Internet that mocked the Muslim Prophet Muhammad.
"I feel that using this form as a pretext, Islamic extremists went ahead and attacked the Libyan Embassy," Hirsi Ali said. "Islamic extremists would like to limit the freedom of speech and they'd like to impose their way of life on everybody and they use creative material, good material or bad material, as an excuse to set about doing this."
She cautions Western countries against bending over backwards to avoid further offense by prosecuting those who insult Muslims through free speech or amending constitutions regarding freedom of expression.
"I think it was Osama bin Laden who said, 'When humans see a strong horse and they see a weak horse they will choose a strong horse,'" she said. "America is very, very strong, a million times stronger than all of the Muslim countries combined. We need to hold firm. All our ideas of freedom are non-negotiable and we will do whatever it takes to protect them. That may sound uncompromising but it is important for us to be clear on what we're prepared to compromise and what we are not prepared to compromise. We are not prepared to amend the Fifth Amendment."
Instead, she said, Western governments should "invest in the people with whom we share ideas" by helping those disenchanted with political Islam find an alternative.
"There are individuals and groups who do want a separation of religion and politics," she said. "The best strategies would be to help those individuals and groups, Muslim or not. They are weakly organized and fragmented. They need help the way the dissidents behind the Iron Curtain needed help."