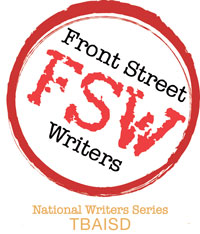 We'd like 15 minutes of your time to help us hire someone amazing for a very cool job teaching young writers!
The National Writers Series and the Traverse Bay Area Intermediate School District are hiring a Teacher to be part of the Front Street Writers Program, a rigorous, for-credit high school writing program, beginning Fall 2016.
If you or someone you know might be interested, please share!
This is an excellent opportunity for a writer/teacher in a dynamic workshop setting, in a beautiful part of the world.
Here is the description of this full-time job, which includes benefits:
Front Street Writers Program Teacher Guidelines and Application
After reading, go here: TBAISD website