The National Writers Series is offering Summer Writing Workshops for students of all ages.
Register now! Each workshop has a maximum participation of 15 students.
HIGH SCHOOL WORKSHOPS
Crafting the Story: Fresh Forms
Grade 8-12, Advanced Writing  |  August 12-16, 11:30am-3:30pm
Front Street Writers Studio, 123 W. Front Street
It may be true that there are no new stories, but there are countless innovative ways to tell the same old stories. Can you imagine a short story written entirely as an email exchange? Or a choose-your-own-adventure love story where the author supplies the reader with several possible endings?  What about a narrative that moves through different rooms of a house in order to tell a family drama? Tired of the traditional conflict-crisis-resolution pattern most fiction follows, contemporary writers often seek new forms to freshen up their narratives, and we'll follow suit.
Students should come to the first class with a draft of a short story in progress (3-10 pages), and be prepared for an exciting week of inspiring readings, writing exercises, formal experimentations, and peer workshops. This class is recommended for students entering grades 8 – 12 who love to write and want to take their fiction to the next level. Instructor: Leigh Gallagher
Register now!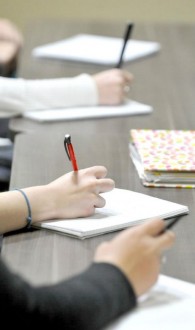 MIDDLE SCHOOL WORKSHOPS
Terrifying Tales
6th, 7th & 8th grade  |  August 12 – 16, 1:30-3:30pm
Meet on the lawn at the Grand Traverse Commons/Building 50 in front of Cuppa JoeWhispering winds scatter leaves over the Traverse City State Hospital grounds. On an eerie night, spirits rise from their sleeping places. Even in the daylight a glimpse of a figure in a long abandoned window sends a chill down your spine. Explore the hospital grounds and immerse yourself in the history and lore of the former asylum to create your own terrifying tale. Wear your walking shoes and bring a notebook and pencil. Instructors: Abigail Woughter and Kerrey Woughter
Register now!
ELEMENTARY SCHOOL WORKSHOPS
Castle Creations
3rd, 4th & 5th grade  |  August 12 – 16, 9-11am
Traverse City Central High School library, 1150 Milliken Drive
Dungeons or dragons? Princesses or knights? Motes or towers? (Hey, why not all?) Create your own castle and chronicle the story of the creatures and community that call your palace home. Look to famous legends of sword play and dragon slaying to inspire your own high adventure. Instructors: Abigail Woughter. FSW advanced writers will assist class (5 student writers to 1 adult writer).
Register now!
ABOUT THE INSTRUCTORS
Nicole Caldwell is a certified teacher whose experience in teaching and writing workshops has led her to believe that it is imperative young people stretch the boundaries of conventional thinking through their practice as writers.
Leigh Gallagher is a published working writer and Master of Fine Arts graduate from the University of Michigan, as well as the 2012-13 National Writers Series Writer-in-Residence.
Margaret Goeman is a long-time teacher, tutor, musician, stone worker, gardener and avid dog lover.
Kelly Rinalta has studied with the National Writing Project and teaches English and creative writing. Writing is her passion and the power of a well-told story always amazes her.
Abigail Woughter, twice winner of the National Writers Series scholarship, is currently studying at Cornell University and is the fiction editor at the Cornell Daily Sun online.
Kerrey Woughter is the teacher and director of the Front Street Writers program.