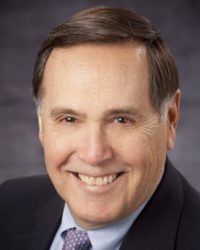 Bill Montgomery graduated from the University of Michigan with an honors degree in Economics and earned his MBA from Harvard University.  He began his management career with Bell & Howell Company in Chicago, quickly rising to a corporate Vice President. He enjoyed a long career working in several facets of the oil and gas industry, first with Global Marine and subsequently as a leader of consulting organizations Gaffney, Cline and the Sterling Consulting Group.  His work focused on exploration and production segment performance evaluation, strategic direction and project evaluation.
Bill has volunteered in several capacities including serving as the long time Chairman of the Union Station ministry to the homeless of Pasadena, CA.  He was also the Vice Chairman of the Parkland Hospital Foundation in Dallas, TX.  Bill currently serves on the board of the Munson Foundation and has been enthusiastically involved in their efforts to raise money to build the Cowell Family Cancer Center here in Traverse City. He and his wife Anne live in Traverse City, Michigan where they are avid volunteers, readers and travelers. They often visit their children and grand children in Texas and New Hampshire.
Bill is the author of Prayer for Time, a memoir focusing on turning points in his life and especially his reaction to a recent cancer diagnosis.