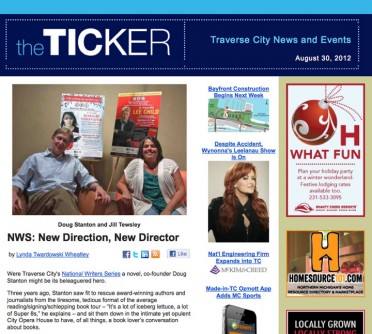 Were Traverse City's National Writers Series a novel, co-founder Doug Stanton might be its beleaguered hero.
Three years ago, Stanton saw fit to rescue award-winning authors and journalists from the tiresome, tedious format of the average reading/signing/schlepping book tour – "It's a lot of iceberg lettuce, a lot of Super 8s," he explains – and sit them down in the intimate yet opulent City Opera House to have, of all things, a book lover's conversation about books.
But as the NWS has surged in size and impact, catching the attention of national media and publishing's heavy hitters, joining forces with local public schools to create the Front Street Writers program, Stanton – essentially an unpaid NWS volunteer (incidentally, one with a Newsweek article and book review due, uh … yesterday) – found himself spread a wee bit thin.