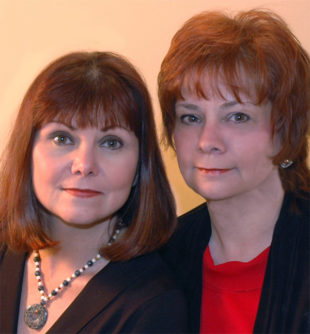 In most endeavors, common wisdom says "Two heads are better than one." Many artists and writers, who hold the individuality of their work close to the heart, might disagree. But in the case of two Detroit-born sisters, it appears to be working just fine.
 P.J. Parrish is the pseudonym for the New York Times bestselling author team of Kelly Nichols, who resides and works here in Traverse City, and Kris Montee, who lives in Florida. They have authored eleven mystery thrillers, about half of them set in Michigan. Their books have appeared on both the New York Times and USA Today best seller lists and the Louis Kincaid series has garnered multiple crime-fiction awards, including an Edgar® nomination. They are published throughout Europe and Asia. Here's a recent interview:
Q: Many authors say they knew they always wanted to write. Is that true of you two?
KELLY: Yes. My first literary effort was to kill off all the Beatles in a thriller that took place in about four pages and ended with arrest of their manager as the villain. Since I was ten, the only editor and reader was my father, who dutifully wrote "Good Job!" on the cover page. That was enough to keep me going, and by junior high, I was writing stories in spiral notebooks (well, actually the same story with the same characters who had endless high school exploits, complete with gang fights, knife slashes and an occasional dead body.) My feedback during this phase was "How can you write this stuff…Ewww!"
My life turn took a turn away from my creative efforts when I married and spent the next twenty years raising children and learning the casino business from the blackjack table to Employee Relations. But the urge to create a very different and far more exciting fictional world never really let go. By the time the kids were graduating, I was back to the spiral notebooks, and eventually progressed to a $99 typewriter, where with two-fingers, I literally pounded out an over-wrought southern romance (a genre I would never again attempt) and inundated my mother with ideas, characters and aspirations until the wee hours of the Arizona mornings. Feedback here was close to "Dear Author, your manuscript does not fit our needs at this time."
When I found myself single, and living in a town rich with a criminal history of its own, and all my children out of the house, I tried again, giving birth to our current character (and our bread and butter) Louis Kincaid. This period coincided with Kristy's husband telling her to either write again or go get a real job. Faced with that, we teamed up and finished our first novel together, titled "DARK OF THE MOON." I don't have to tell you what the feedback here was, since we have now published eleven Louis Kincaid novels. It has been an interesting journey, ending up right back I started. Writing endless adventures with the same character and showing it first to a member of the family. After over 50 moves in my lifetime, I have finally returned to Michigan and settled into a lovely condo in the woods. I spend the snowy days writing, watching football and listening to the buzz of snowmobiles with an occasional trek into the best bookstore in the world to work a few hours behind the counter. When I can, I take to the highways and rediscover the beautiful state I loved so much as a child.
KRIS: I have been writing since I was old enough to pick up a crayon. My first professional effort was "The Parkwood Banner," a newspaper about the street where I lived when I was in fourth grade. I sold it for 3 cents an issue and made enough to keep me in Good Humor bars. Later, in eighth grade, I turned to fiction, writing a short story called "The Cat Who Understood." My teacher, Miss Gentry, was the first person who told me I could write. I believed her.
Much later, armed with a useless teaching degree, I got a job on a suburban Detroit weekly as the Women's Editor (that's what they called feature sections in my salad days). I won an award and in 1972 landed a job at the Sun-Sentinel in Fort Lauderdale where I was named women's editor, fired, rehired, and went on to do everything from police reporter to ballet critic to Sunday editor. One day, I looked up and was Assistant Managing Editor and the only thing I was writing was personnel evaluations. So I tried to write a romance novel at night. It ended up getting plucked out of a slush pile and published. I wrote three more "contemporary women's fiction" novels, (i.e. family sagas with sex scenes), got caught in a coup d'etat at the publishing house and was "released."
I moped for a year and my husband told me to start writing again or get a job. I found an agent who wisely told me to ditch romance novels and switch to mystery novels. Turns out that was a good idea, because there are a lot more ways to kill people than there are to have sex. I teamed up with my sister Kelly Nichols and we created our biracial cop-hero Louis Kincaid. I love him, my husband Daniel, my dogs Bailey and Phoebe, and my cat Lucy. As for free time, I don't have much. If I did, I would be hiking in Europe, reading, writing more short stories, or playing my baby grand. (While Kelly plays with her new grandbaby).
Q: Your latest book, "SHE'S NOT THERE" is a standalone, with a new publisher. Where did the idea for this plot come from?
Kris was running in her park when the Zombies's song, "She's Not There" come up on the iPod. The words were immediately inspiring to her: "Well, no one told me about her, the way she lied. Well, no one told me about her, the way we both cried. But it's too late to say you're sorry. Well, I know…why should I care? Please don't bother trying to find her…she's not there." And we had to know MORE about this woman and the plaintive plea of the man we imagined talking about her. Then, for some strange reason, Kris had a thought about a childhood memory of walking too far out into a lake (Lake Whitmore in Michigan, where we went often) and feeling the sand give way and I was floating…drowning, probably…but someone pulled me out by the hair. That is the first paragraph of the book. The rest? Well, it just sort of grew out of that…an idea of a woman waking up from a dream about drowning (literally and figuratively in her life) and how she is forced to examine who and what she has become.
Q: When's the next Kincaid novel coming out? Title?
We are working hard on it now and it is moving along easily, with a working title of THE DAMAGE DONE. Louis's stories almost always come easy now after thirteen years with him. We don't have a pub date yet but we can tell you that it takes place in the Upper Peninsula's copper country and that we bring Louis home to Michigan and give him back the badge he has wanted for so long. He has been hand-picked (by his old nemesis Mark Steele no less) for a special state police task force and he is given a cold case in the U.P. that will test his mettle as an investigator, a father, and a man.
For more information, please visit www.pjparrish.com.