Next week we will have the privilege to welcome Beth Macy to the City Opera House. This will be her first visit to Traverse City. Beth Macy joins returning guest host John Bacon on stage on Monday, Feb. 27th at 7pm. Click here for more information or tickets.
Marina Call interviewed Macy last week for MyNorth. They spoke about beer, politics, Hollywood and becoming a New York Times bestseller. The basics.
Are you having more interest in Factory Man with the current political environment?
Macy: "I think there is interest in people trying to understand what happened with the election and I do think you can point to Factory Man and say that people in rural America were discounted and were not listened to in our larger national discourse."
This will be your first appearance at a National Writers Series event. What have you heard about our town in Northern Michigan?
Macy: "I am really looking forward to visiting Traverse City, I am really into beer and I heard you have great beer."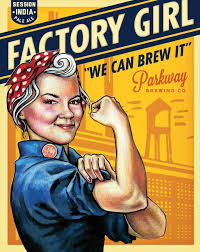 She shared that a local brewer in Virigina had made a beer specifically called "Factory Girl." When she visits the City Opera House, she will be happily surprised to see a dessert with her name on it. Morsels has been creating personalized treats for our authors since 2010 with Tom Brokaw's "Brokawfee Toffee."
What do your two books, "Factory Man" and "Truevine" have in common?
"That is a really great question. They seem very different, one is about a very pool illiterate black maid who is a hero and the other is about a multi-millionaire at birth…They are both bad-ass characters, you couldn't make them up. I love that theme when somebody who is underestimated wins in the end."
On the Hollywood front, she shared that Tom Hanks and Leonardo DiCaprio are interested in turning her books into films.