The National Writers Series has hosted nearly 100 authors on stage since bestselling author Doug Stanton first announced the year-round book festival in June of 2009. He had interviewed author Elmore Leonard that evening and had such a great time, he wanted to keep the conversation going.
New York Times Bestsellers
Mitch Albom (35 million)
Margaret Atwood
Ayaan Hirsi Ali
John U. Bacon
Mario Batali
James Bradley
Tom Brokaw
Daniel James Brown (420,000)
Rita Mae Brown
Susan Casey
Lee Child (70 million books)
Harlan Coben (60 million)
Michael Connelly
Kelly Corrigan (5 million)
Vanessa Diffenbaugh
David Ebershoff
Janet Evanovich (200 million books)
Jamie Ford
Richard Ford
Gillian Flynn
Diana Gabaldon (26 million)
Tess Gerritsen (30 million)
Emily Giffin (400,000 copies)
Temple Grandin
Blaine Harden
Nancy Horan
Rhoda Janzen
Sebastian Junger
Lucy Kalanithi for Paul Kalanithi
Mary Karr
Laurie R. King (nearly 3 million)
Sophia Kinsella
Chuck Klosterman
Elmore Leonard
Debbie Macomber (170 million)
Karl Marlantes
Colum McCann
Paula McLain (1.5 million)
Anchee Min
Audrey Niffenegger (5 million)
Anna Quindlen
Sara Paretsky
Ann Patchett
Tom Perotta
Jodi Picoult (35 million)
Anna Quindlen
James Rollins (Nearly 7 million)
David Sedaris
Jeff Shaara (all 14 historical novels have been NYT bestsellers)
Daniel Silva
Karin Slaughter (30 million)
Hampton Sides (One million)
Maggie Stiefvater
Tui Sutherland
National Bestseller
Bonnie Jo Campbell
Peabody Award Winners
Tom Brokaw
Ben Sidran
Authors with Books Adapted into Movies or TV
Mitch Albom, Tuesdays with Morrie
Mario Batali, The Chew
Buzz Bissinger, Friday Night Lights
James Bradley, Flags of Our Fathers
Vanessa Diffenbaugh, The Language of Flowers
David Ebershoff, The Danish Girl
Emily Giffin, Something Borrowed
Jeffrey Eugenides, Virgin Suicides
Janet Evanovich, One for the Money
Gillian Flynn, Gone Girl
Sebastian Junger, Perfect Storm
Sophia Kinsella, Confessions of a Shopaholic
Walter Kirn, Up in the Air
Audrey Niffenegger, The Time Traveler's Wife
Tom Perotta, The Leftovers
Hampton Sides, Ghost Soldiers adapted into The Great Raid
Emmy Award Winners/Award-Winning Shows
Lisa Albert (Mad Men)
Tom Brokaw (China in Crisis)
Chip Johannessen (Homeland)
Vince Gilligan (Breaking Bad)
Janet Leahy (Mad Men)
The Great Michigan Rea
Steven Luxenberg
Guggenheim Fellow
Mary Karr
James Beard "Outstanding Chef of the Year" Award
Mario Batali
Michigan Notable Book
Mardi Link
National Book Critics Circle Award for Biography
James Tobin, Ernie's Pyle War
National Book Critics Circle Award Finalist
Bonnie Jo Campbell
National Book Award Finalist
Bonnie Jo Campbell
National Magazine Award Nominees
Richard Ford (winner)
Michael Paterniti
Hampton Sides
Pushcart Prize Award Winners
Benjamin Busch (nominee)
Jack Driscoll
National Book Award Winners
Peter Matthiessen
George Packer
Colum McCann
Nathaniel Philbrick
Edgar Award Winner
Laurie R. King, Edgar Award for Best First Novel
NEA Grant Recipient
Michael Paterniti
Pulitzer Prize Winners and Nominees
Buzz Bissinger (winner)
Jeffrey Eugenides (winner)
Richard Ford (winner)
Bryan Gruley (winner)
David Maraniss (two-time winner)
James Tobin (nominee)
David Finkel (winner)
Rosa Parks Woman of Courage Award
Nikki Giovanni
Ms. Magazine Woman of the Year Award
Sara Paretsky
NPR Commentators
Benjamin Busch
Alan Cheuse
An Adviser to the Joint Chiefs of Staff Chairman
Sarah Chayes
Pen Faulkner Award
Richard Ford
PEN Center USA Literary Award
Hampton Sides, Ghost Soldiers
PBS Star
Harvard Professor Michael Sandel
YouTube Sensation
Kelly Corrigan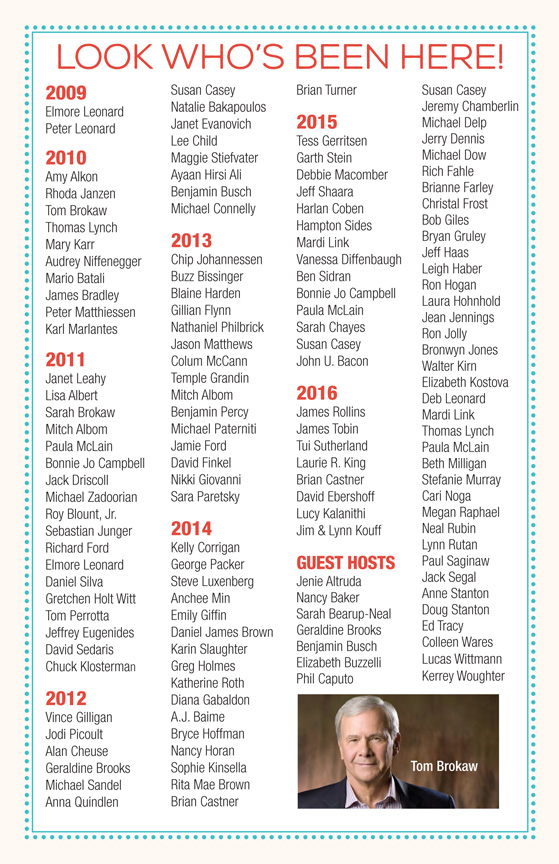 NATIONAL WRITERS SERIES GUEST AUTHORS
2016
BRIAN CASTNER
Following his service as an Explosive Ordnance Disposal officer in the US Air Force, Castner wrote The Long Walk: A Story of War and the Life That Follows, an Amazon Best book of 2012.
His next book, All the Ways We Live and Die, is a tribute to his friend and comrade Matthew Schwartz and a critical examination of how modern wars are fought. Castner has written for The New York Times, Wired, The Daily Beast, and National Public Radio. He received a Pulitzer Center on Crisis Reporting grant to report on the Ebola epidemic for national publications.
DAVID EBERSHOFF
Author of the #1 New York Times bestseller The Nineteenth Wife, a novel that delved into modern-day and 19th century polygamy, Ebershoff also wrote three other books, including The Danish Girl, based on the true story of a transgender pioneer, which was adapted into an Academy Award-winning movie. Ebershoff's books have been translated into more than twenty languages to critical acclaim and Out Magazine has twice named him to its annual Out 100 list of influential LGBT people. Ebershoff had a 20-year career at Random House, where he was most recently vice president and executive editor. He edited more than twenty New York Times bestsellers, three Pulitzer Prize winners and a winner of the National Book Award. He teaches in the graduate writing program at Columbia University.
LUCY KALANITHI
Drawing on emails, videos and correspondence, Dr. Lucy Kalanithi completed the final pages of When Breath Become Air, when her husband, Paul, a neurosurgeon, died in March of 2015 from lung cancer. Written in dazzling prose about finding joy in the face of terminal illness, this stunning memoir soared to #1 on the New York Times bestseller list. Dr. Paul Kalanithi had completed his neurosurgery residency at the Stanford University School of Medicine, was an instructor in the Department of Neurosurgery, and a fellow at the Stanford Neurosciences Institute. Lucy is an associate professor at Stanford Medical Center.
LAURIE R. KING
King is master of the detective genre, having paired up Sherlock Holmes with the much younger Mary Russell, a sidekick who is every bit of his equal. King has written more than 20 books and has sold nearly three million copies of the Mary Russell series. She boasts that she is one of the few women who can lay claim to both a MA in theology and an Edgar Award for Best First Novel. Her other awards include: the Agatha Best Novel nominee, the John Creasey Award, the Nero Wolfe Award, Best Novel, Nominee for Edgar Awards Best Novel and the UK's Orange, Macavity Awards Best Novel winner, and the LAMBDA Literary Award for Best Lesbian Mystery.
JIM AND LYNN KOUF ~ 2016 National Cherry Festival author guests
The screenwriter/producer team of Jim and Lynn Kouf have worked in Hollywood for decades, stacking up movie and television credits that include the NBC Thriller Drama Grimm, National Treasure, Rush Hour, Stakeout, Kalifornia, ConAir and Snow Dogs. Jim's latest project is Money Monster, the hit film with Julia Roberts and George Clooney.
THE MOTH MAINSTAGE
The Moth Mainstage features true, personal stories told by storytellers who have lived through something extraordinary and yearn to share it. It is a staple of the literary and art scenes in NYC, L.A., Boston, and beyond. The Moth podcast is downloaded nearly 25 million times a year, and the Peabody Award-winning The Moth Radio Hour airs weekly on radio stations nationwide. Presented in collaboration with The City Opera House.
JAMES ROLLINS
One of the country's hottest thriller writers, with a total of 6.7 million copies in print, Rollins creates spell-binding reads by weaving little known facts from history and science. He has written six individual adventure thrillers, including the blockbuster movie novelization, Indiana Jones and the Kingdom of the Crystal Skull; the Tucker Wayne Series; the Sanguines series; and the Jansom Ransom middle grade series.
TUI SUTHERLAND
Wildly popular children's author Tui Sutherland helped us launch our inaugural Battle of the Books, an event drawing 135 competitors and 300 audience members. Sutherland is a popular fantasy writer, having written some 40 children's books, including the New York Times bestselling series: Warriors, Seekers, and Wings of Fire, a ten-book epic dragon fantasy.
JAMES TOBIN
Tobin—a Michigan-based award-winning journalist, historian, biographer and professor—is a two-time Pulitzer Prize nominee for his reporting for the Detroit News, a winner of the National Book Critics Circle Award for his first book, Ernie Pyle's War, and a recipient of the J. Anthony Lukas Work-in-progress Award for To Conquer the Air: The Wright Brothers and the Great Race for Flight. His newest book on FDR, The Man He Became, broke new ground on how FDR coped with polio. Tobin also received a National Endowment for the Humanities fellowship. He earned a doctorate in history at the University of Michigan and is a tenured associate professor of journalism at Miami University of Ohio.
2015
JOHN U. BACON
Michigan-based John Bacon is author of eight books, including the New York Times bestsellers Three and Out, Endzone: The Rise, Fall and Return of Michigan Football and Fourth and Long. He has written for The Wall Street Journal, Time magazine, The New York Times, and ESPN Magazine, earning national honors. Bacon is also a popular public speaker. He has reported for the Ann Arbor News, the Detroit News, the New York Times and ESPN Magazine. Bacon teaches journalism at Northwestern's Medill School of Journalism and the University of Michigan.
BONNIE JO CAMPBELL
Michigan-based author of American Salvage and best-selling Once Upon A River, Campbell is a National Book Award finalist and National Book Critics Circle Award finalist. She is also formally recognized as one of the country's best writers of "rural noir" and contemporary realism.
SUSAN CASEY
Casey is a New York Times bestselling author of The Waves, The Devil's Teeth, and Voices in the Ocean: A Journey Into the Wild and Haunting World of Dolphins, which USA Today called "painstakingly researched and gorgeously written." Casey is the former editor-in-chief of O – The Oprah Magazine and a National Magazine Award winner whose work has been published in Esquire, Outside and National Geographic.
SARAH CHAYES
Having gained fame as a NPR correspondent Sarah Chayes went on to become the personal adviser of Joint Chiefs of Staff Chairman Admiral Mike Mullen, create a start-up skincare business employing Afghani men and women, and to write Thieves of State: Why Corruption Threatens Global Security, in which she connects the policy dots from Syria to Ukraine to Nigeria to Afghanistan, showing how kleptocratic regimes – tolerated or even facilitated by the United States – can drive fed-up citizens into the arms of extreme fundamentalist groups.
HARLAN COBEN – 2015 National Cherry Festival guest author
With over 60 million books in print worldwide, Coben's last seven novels have all debuted at #1 on the New York Times bestseller list, including his new book The Stranger. His 2001 novel Tell No One was made into the hit movie of the same name. Winner of the Edgar Award, Shamus Award and Anthony Award – the first author to win all three – international bestselling author Harlan Coben's critically-acclaimed novels have been called "ingenious" (New York Times), "poignant and insightful" (Los Angeles Times), "consistently entertaining" (Houston Chronicle), "superb" (Chicago Tribune) and "must reading" (Philadelphia Inquirer).
VANESSA DIFFENBAUGH
Diffenbaugh's much-acclaimed debut novel, The Language of Flowers, tells of a young woman overcoming her self perception as "damaged goods" as she ages out of the foster care system. A New York Times bestseller, the novel was released in 36 additional countries, and reached No. 1 in Italy and No. 5. in the U.K, while Publishers Weekly selected the book as one of the fall's Top 10 Literary Fiction titles. It's been optioned for a movie. Her next novel, We Never Asked for Wings, is a multi-generational story of a Hispanic's family story of struggle and hope. Diffenbaugh, a Stanford University graduate, also founded the Camellia Network, a nonprofit that helps children transition out of foster care.
TESS GERRITSEN
Gerritsen who began her career as a physician became an international bestselling author of medical thrillers. Her books have been published in 40 countries and more than 30 million copies have sold worldwide. Her series of novels featuring detective Jane Rizzolli and Maura Isles inspired the TNT television series of the same name.
MARDI JO LINK
Michigan based author, Link wrote the memoir Bootstrapper: From Broke to Badass On a Northern Michigan Farm, an Indie Next pick, a 2013 Booksellers Choice Award from the Great Lakes Independent Booksellers Association, an Elle magazine's Reader's Prize, a Housatonic Book Award for Nonfiction winner, and a Michigan Notable Book. Film rights have been sold to Academy Award-winning actress Rachel Weisz. Link also wrote a follow-up memoir, The Drummond Girls.
Link wrote two true-crime books: When Evil Came to Good Hart, Isadore's Secret and Wicked Takes the Witness Stand, the latter landing on the New York Times bestselling crime books list. Her essays have appeared in Creative Nonfiction, the Detroit Free Press, Publishers Weekly, Terrain, and Traverse Magazine.
DEBBIE MACOMBER
Macomber is a #1 New York Times bestselling author and one of today's most popular writers with more than 170 million copies of her books in print worldwide. She writes about love, romance and relationships. Her novels have spent over 750 weeks on the New York Times bestseller list and have been made into Hallmark movies as well as the popular Cedar Cove TV series.
PAULA MCLAIN
International bestselling author of The Paris Wife, McLain returns to the National Writers Series for an up-close and personal conversation about her stunning new book, Circling the Sun. With 1.5 million copies sold, more than a year on the New York Times bestseller list, and translated into 34 languages, The Paris Wife made McLain, a one-time cocktail waitress and pizza-delivery girl, into one of literature's brightest stars in 2011. She is the recipient of fellowships from Yaddo, The MacDowell Colony, the Cleveland Arts Prize, the Ohio Arts Council and the National Endowment for the Arts, she is also the author of two collections of poetry; a memoir, Like Family, Growing up in Other People's Houses; and a first novel, A Ticket to Ride. She lives with her family in Cleveland.
JEFF SHAARA
Shaara is the critically acclaimed New York Times bestselling author of several historical fiction novels, including The Fateful Lightning, the concluding novel in a lengthy Civil War series that started with his father Michael Shaara's The Killer Angels. Of his 14 novels, all have been bestsellers. In 2003, Warner Brothers released Gods and Generals based on his first book. Jeff is the only two-time recipient of the American Library Association's "William Young Boyd Award" for Excellence in Military Fiction.
HAMPTON SIDES
Sides is best-known for his gripping non-fiction adventure stories set in war or depicting epic expeditions. He wrote the bestselling histories Ghost Soldiers, Blood and Thunder, Hellhound On His Trail, and Kingdom of Ice, which recounts the heroic polar voyage of the U.S.S. Jeannette during the Gilded Age.
Hampton is editor-at-large for Outside and a frequent contributor to National Geographic and other magazines. His journalistic work, collected in numerous published anthologies, has been twice nominated for National Magazine Awards for feature writing. He is also a USA Pen Center Literary Award and the Top 25 Editor's Pick of Amazon.com Best Book selection in 2001.
A Yale graduate, Hampton is the 2015 Miller Distinguished Scholar at the Santa Fe Institute and an advisory board member of the Mayborn Literary Nonfiction Conference and the Author's Guild. A frequent lecturer, Hampton teaches narrative nonfiction at Colorado College.
BEN SIDRAN
Author of There Was a Fire: Jews, Music and the American Dream, a complete social history of the Jewish contribution to popular music in America, and two other books, including a memoir that captures his time performing with Steve Miller, Boz Scaggs, Eric Clapton and The Rolling Stones. Sidran won a Peabody for his NPR series, "Jazz Alive," and VH-1's "New Vision" series. Additionally he has a doctorate in American Studies from Sussex University in Brighton, England.
Stein is an American author and film producer. He is widely known as the author of the New York Times bestselling novel, The Art of Racing in the Rain. Stein is also a documentary film maker, playwright, teacher, and amateur racer. The Art of Racing in the Rain spent more than three years on the New York Times bestseller list. His new book, A Sudden Light, is the work of a master storyteller at the height of his power.
2014
KELLY CORRIGAN
Corrigan is the author of The Middle Place and Lift, both New York Times bestsellers. She is a YouTube sensation whose beloved "Transcending" video has been seen by more than 5 million viewers. She is also a contributor to O: The Oprah Magazine and Good Housekeeping.
EMILY GIFFIN
After just six novels Emily Giffin has garnered a huge and loyal following. Her last three books have sold more than 400,000 copies each in hardcover and eBook alone, and she has debuted as high as #2 on the New York Times hardcover bestseller list. Her debut novel Something Borrowed, was made into a movie starring Kate Hudson and John Krasinski. Her latest novel The One and Only is written with intelligence, warmth, and wit. It's a luminous novel about the choices we make in life and love, for better or worse.
ANCHEE MIN
Anchee Min was born in Shanghai in 1957. At seventeen she was sent to a labor collective, where a talent scout for Madame Mao's Shanghai Film Studio recruited her to work as a movie actress. Her first memoir, Red Azalea, was an international bestseller, published in twenty-seven countries. She has since published six novels, including Empress Orchid, Becoming Madame Mao, and, Pearl of China. Her new memoir, The Cooked Seed, picks up where Red Azalea left off.
STEVEN LUXENBERG
Luxenberg has worked for more than 30 years as a newspaper editor and reporter and is currently an associate editor at the Washington Post and a graduate of Harvard College. His book Annie's Ghosts was chosen as the 2013-14 The Great Michigan Read book and was named to The Washington Post's Best Books of 2009 list.
DANIEL JAMES BROWN
Brown's bestselling book The Boys in the Boat tells the dramatic story of the American rowing team that stunned the world at Hitler's 1936 Berlin Olympics. Brown is also the author of Under a Flaming Sky: The Great Hinckley Firestorm of 1894 and The Indifferent Stars Above: The Harrowing Saga of a Donner Party. After 83 weeks on the New York Times bestseller list, The Boys in the Boat remains #1 in paperback fiction.
DIANA GABALDON – 2014 National Cherry Festival guest author
Gabaldon is the author of the wildly popular Outlander series. The seven book series has sold more than 20 million copies and has been published in 26 countries and 23 languages, worldwide.
GEORGE PACKER
National Book Award winner for nonfiction, Packer is an American journalist, novelist, and playwright.
A staff writer for The New Yorker, he has covered the Iraq War for the magazine. His book The Assassins' Gate was named one of the ten best books of 2005 by the New York Times. Packer's latest book The Unwinding: An Inner History of the New America, which won the 2013 National Book Award for nonfiction, is a novelistic and kaleidoscopic history of the new America.
KARIN SLAUGHTER
#1 internationally bestselling author Karin Slaughter is one of crime fiction's most celebrated award-winning writers, widely regarded as a literary force whom consistently delivers character driven, nail biting suspense novels with psychological intensity.
A.J. BAIME
A. J. Baime is the author of the New York Times bestselling The Arsenal of Democracy and Go Like Hell (currently in development as a major motion picture by 20th Century Fox). He is a regular contributor to the Wall Street Journal, an editor at large at Playboy magazine, and a contributing editor to Road & Track.
BRYCE HOFFMAN
Hoffman is an award-winning writer, speaker and consultant. As the Ford beat reporter for The Detroit News, he had a front-row seat for the events chronicled in his bestselling book, American Icon. He has been honored by the Society of American Business Editors and Writers, the Society of Professional Journalists, the Associated Press, and others for his coverage of Ford and is one of the world's foremost authorities on the automaker.
NANCY HORAN
Nancy Horan is best known for her novel Loving Frank, which chronicles a little-known chapter in the life of legendary American architect Frank Lloyd Wright. The book was on the New York Times Bestseller list for over a year. Her new novel, Under the Wide and Starry Sky, explores the unlikely relationship of Robert Louis Stevenson and his spirited American wife, Fanny Van de Grift Stevenson.
SOPHIE KINSELLA
Kinsella is an English author best known for chick lit. Apart from numerous short stories, she has written several successful stand-alone novels as Madeleine Wickham but is perhaps best known for her work under the pen name Sophie Kinsella. The first two novels in her bestselling Shopaholic series were adapted into the film Confessions of a Shopaholic starring Isla Fisher.
RITA MAE BROWN
Brown is an American writer and feminist. She is best known for her first novel Rubyfruit Jungle, which has sold more than one million copies. Published in 1973, it dealt with lesbian themes in an explicit manner unusual for the time.
BRIAN CASTNER
(Please see 2016)
BRIAN TURNER
Brian Turner is a poet and memoirist who served seven years in the US Army. Turner's work has been published in National Geographic, The New York Times, Poetry Daily, Harper's Magazine, and other fine journals. His recent memoir, My Life as a Foreign Country, has been called, "achingly, disturbingly, shockingly beautiful.
2013
BUZZ BISSINGER
Bissinger is the author of five highly acclaimed nonfiction books — Friday Night Lights, A Prayer for the City, Three Nights in August, Shooting Stars and Father's Day. He first won praise as a journalist working for The Philadelphia Inquirer where he received the Pulitzer Prize for Investigative Reporting for story on corruption in the Philadelphia court system in 1987.
GILLIAN FLYNN
Flynn is an author, screenwriter, comic book writer and former television critic for Entertainment Weekly. Flynn's three published novels are the thrillers Sharp Objects, Dark Places and Gone Girl. Gone Girl was turned into an academy award nominated film staring Ben Affleck.
TEMPLE GRANDIN
Temple Grandin is a noted animal expert and advocate for autistic populations who has penned the books Animals in Translation and Animals Make Us Human. Temple Grandin, Ph.D., is now the most accomplished and well-known adult with autism in the world. Her fascinating life, with all its challenges and successes has been brought to the screen. She has been featured on National Public Radio, the BBC special, The Woman Who Thinks Like a Cow, ABC's Primetime Live, The Today Show, Larry King Live, 48 Hours and 20/20 and has written forTime magazine, People magazine, Forbes, U.S. News and World Report, and New York Times.. Among numerous other recognitions by media, Bravo Cable did a half-hour show on her life, and she was featured in the best-selling book, Anthropologist from Mars.
CHIP JOHANNESSEN
Johannessen is an award-winning writer, editor, and producer of several popular television series in 24, Moonlight, Beverly Hills, 90210 and Homeland, winner of six Emmy awards.
BLAINE HARDEN
Blaine Harden is an American author and journalist. His 2012 book, Escape From Camp 14, is an international bestseller translated into 27 languages. It's the story of Shin Dong-hyuk, the only person born in a N. Korean prison camp to escape to the West.
JASON MATTHEWS
Matthews is a retired officer of the CIA's Operations Directorate. Over a thirty-three-year career he served in multiple overseas locations and engaged in clandestine collection of national security intelligence, specializing in denied-area operations. Red Sparrow, an espionage thriller, was his debut novel.
COLUM MCCANN
Colum McCann was born in Ireland. He is the author of six novels and two collections of stories. He has been the recipient of many international honors, including the National Book Award. His work has been published in over 35 languages.
NATHANIEL PHILBRICK
Nathaniel Philbrick is an American author and a member of the Philbrick literary family. He won the year 2000 National Book Award for his maritime history, In the Heart of the Sea: The Tragedy of the Whaleship Essex.
BEN PERCY
Percy is the award-winning author of The Wilding. Hailed by critics as one of America's emerging novelists, Percy's fiction and nonfiction have been read on National Public Radio and published by Esquire, GQ, TIME, Men's Journal, Outside, The Wall Street Journal, and The Paris Review.
MICHAEL PATERNITI
Paterniti is the author of Driving Mr. Albert: A Trip Across America with Einstein's Brain. He has written articles from around the world for Harper's, GQ, Esquire and other magazines. Paterniti has been nominated eight times for the National Magazine Award, and is the recipient of a NEA grant and two MacDowell Fellowships. He is the co-founder of a children's storytelling center in Portland, Maine. He is a graduate of Middlebury College and the University of Michigan.
JAMIE FORD
Jamie Ford is a New York Times bestselling author who gained notoriety with his debut novel, Hotel on the Corner of Bitter and Sweet, which was an IndieBound NEXT List Selection, a Borders Original Voices Selection, a Barnes & Noble Book Club Selection, Pennie's Pick at Costco, a Target Bookmarked Club Pick, and a National Bestseller. It was also named the #1 Book Club Pick for Fall 2009/Winter 2010 by the American Booksellers Association. In addition, Hotel has been translated into 34 languages. He is ethnically half Chinese, and his work so far focuses on the Chinese-American experience. He was born and grew up in Seattle, Washington. Although he no longer lives in Seattle, the city has played an important role in both Ford's books.
DAVID FINKEL
Finkel is an American journalist who won a Pulitzer Prize in 2006 as a staff writer at The Washington Post. A 2012 MacArthur Fellow, Finkel is the author of the books The Good Soldiers and Thank You For Your Service.
NIKKI GIOVANNI
Nikki Giovanni is one of the best-known African-American poets who reached prominence during the late 1960s and early 1970s. Her unique and insightful poetry testifies to her own evolving awareness and experiences: from child to young woman, from naive college freshman to seasoned civil rights activist, from daughter to mother. Frequently anthologized, Giovanni's poetry expresses strong racial pride and respect for family. Several magazines have named Giovanni Woman of the Year, including Essence, Mademoiselle, Ebony, and Ladies Home Journal. She was the first recipient of the Rosa Parks Woman of Courage Award. She has served as poetry judge for the National Book Awards and was a finalist for a Grammy Award in the category of Spoken Word. She is currently University Distinguished Professor at Virginia Tech, where she has taught since 1987.
SARA PARETSKY
Paretsky, an international bestselling mystery author, has been credited with transforming the mystery world through the creation of her female private eye V.I. Warshawski. In 1986 she created Sisters in Crime, a worldwide organization to support women crime writers, which earned her Ms. Magazine's 1987 Woman of the Year award.
MITCH ALBOM – 2013 National Cherry Festival author guest
Albom is an internationally renowned and best-selling author, journalist, screenwriter, playwright, radio and television broadcaster and musician. His books have collectively sold more than 35 million copies worldwide; have been published in forty-nine territories and in forty-five languages around the world; and have been made into Emmy Award-winning and critically acclaimed television movies.
2012
VINCE GILLIGAN
Gilligan is the creator of AMC's hit TV Show Breaking Bad and writer/producer of The X-Files. Breaking Bad has won 16 Emmy Awards, 12 Saturn Awards, six Writers Guild of America Awards, four Television Critics Association Awards, eight Satellite Awards, six Critics' Choice Television Awards, two Glold Globe Awards, two Directors Guild of America Awards and two Peabody Awards.
JODI PICOULT
Picoult is the bestselling author of 23 novels. The last eight have debuted at number one on the New York Times bestseller list. Her books have sold more than 14 million copies worldwide and have been translated into 34 languages. In 2003 she was awarded the New England Bookseller Award for Fiction. She has also been the recipient an Alex Award from the Young Adult Library Services Association, sponsored by the Margaret Alexander Edwards Trust and Booklist, one of ten books written for adults that have special appeal for young adults; the Book Browse Diamond Award for novel of the year; a lifetime achievement award for mainstream fiction from the Romance Writers of America; Cosmopolitan magazine's 'Fearless Fiction' Award 2007; Waterstone's Author of the Year in the UK, a Vermont Green Mountain Book Award, a NH Granite State Book Award, a Virginia Reader's Choice Award, the Abraham Lincoln Illinois High School Book Award, and a Maryland Black-Eyed Susan Award. She's the 2013-14 recipient of the New Hampshire Literary Award for Outstanding Literary Merit.
ALAN CHEUSE
Acclaimed author Alan Cheuse, National Public Radio's longtime book commentator, was the author of five novels, five collections of short stories and novellas, the memoir Fall Out of Heaven, and A Trance After Breakfast, a collection of travel essays. For more than three decades Cheuse was a regular contributor to National Public Radio's "All Things Considered." His short fiction has appeared in The New Yorker, Ploughshares, The Antioch Review, Prairie Schooner, New Letters, The Idaho Review, and The Southern Review, among other places. He taught in the Writing Program at George Mason University and the Squaw Valley Community of Writers. Alan passed away in July of 2015.
MICHAEL SANDEL
Sandel is an acclaimed Harvard University professor and author of the book What Money Can't Buy. He is also the star of his own PBS series, "Justice: What's the Right Thing to Do?
ANNA QUINDLEN
Quindlen was the third women ever to serve as the Op-Ed columnist for the New York Times. Her novel Black and Blue was selected as an official Oprah Book Club pick in 1998. She is the author of several bestsellers including One True Thing, which was adapted into an Oscar-nominated film staring Meryl Streep and Renee Zellweger.
NATALIE BAKOPOULOS
Her work has appeared in Tin House, Ninth Letter, Granta.com, Salon.com, The New York Times, and The New York Times Book Review, and has received an O. Henry Award, a Hopwood Award, and the Platsis Prize for Work in the Greek Legacy. She is a contributing editor for the online journal Fiction Writers Review.
JANET EVANOVICH – 2012 National Cherry Festival author guest
Janet Evanovich is the #1 New York Times bestselling author of the Stephanie Plum series, the Fox and O'Hare series with co-author Lee Goldberg, the Lizzy and Diesel series, twelve romance novels, the Alexandra Barnaby novels and Troublemaker graphic novel, and How I Write: Secrets of a Bestselling Author.
AYAAN HIRSI ALI
Ayaan Hirsi Ali was born in Mogadishu, Somalia, was raised Muslim, and spent her childhood and young adulthood in Africa and Saudi Arabia. In 1992, Hirsi Ali came to the Netherlands as a refugee. She earned her college degree in political science and worked for the Dutch Labor party. She denounced Islam after the September 11 terrorist attacks and now serves as a Dutch parliamentarian, fighting for the rights of Muslim women in Europe, the enlightenment of Islam, and security in the West. She is the author of Heretic, Infidel and Nomad. Ayaan founded the AHA Foundation, a nonprofit dedicated to fighting female mutilation and forced marriage.
BENJAMIN BUSCH
Benjamin Busch is an actor, writer, director and photographer. He served 16 years as an infantry and light armored reconnaissance officer in the United States Marine Corps, deploying to Iraq in 2003 and 2005. As an actor he is best know for his portrayal of Officer Anthony Colicchio in the HBO series The Wire, and he is the writer/director of the film, BRIGHT. He is the author of a memoir, Dust to Dust (Ecco/HarperCollins), and has published in Harper's, The New York Times Magazine, Newsweek, and North American Review among others. He has been a contributor to NPR's All Things Considered and The Daily Beast.
LEE CHILD
Lee Child is the #1 internationally bestselling author of the Jack Reacher thrillers. His debut, Killing Floor, won both the Anthony and the Barry awards for Best First Mystery, and The Enemy won both the Barry and the Nero awards for Best Novel. "Jack Reacher", the film based on the 9th novel, One Shot, stars Tom Cruise, Robert Duvall, Rosamund Pike, Jai Courtney, and David Oyelowo and debuted in December 2012. Child is a native of England and a former television director.
MICHAEL CONNELLY
Connelly is an American author of detective novels and other crime fiction, notably those featuring LAPD Detective Hieronymus "Harry" Bosch and criminal defense attorney Mickey Haller. His books, which have been translated into 39 languages have garnered him many awards. Connelly was the President of the Mystery Writers of America from 2003 to 2004.
MAGGIE STIEFVATER
Maggie Stiefvater is a writer, artist, and musician and the New York Times bestselling author of Shiver, hailed by Publishers Weekly in a starred review as "a lyrical tale," and by BookPage as "beautifully written, even poetic at times, and a perfect indulgence for readers of all ages." There are more than 1.7 million copies of the trilogy in print. Since publication, rights to more than thirty-six foreign editions of Shiver have been licensed. Linger, the second book in the Shiver trilogy, debuted at #1 on the New York Times Bestseller list.
2011
ROY BLOUNT, JR.
Blount is writer, speaker, reporter, and humorist. He appeared as himself in the television series "Treme." He performs with the Rock Bottom Remainders, a rock band composed entirely of writers. He is also a former president of the Authors Guild. He writes frequently for national magazines, including The New Yorker, Rolling Stone, and Vanity Fair, and has written seventeen books.
SARAH BROKAW
Sarah Brokaw is the author of the New York Times best seller Fortytude: Making the Next Decades the Best Years of Your Life—through the 40s, 50s and Beyond, and a licensed therapist specializing in relational dynamics. Her involvement with the wellness community is complemented by her engagement with the world at large. She is a psychotherapist, professional certified coach and philanthropist skilled at helping people on an individual—and communal—basis.
MITCH ALBOM
Albom is an internationally renowned and best-selling author, journalist, screenwriter, playwright, radio and television broadcaster and musician. His books have collectively sold more than 35 million copies worldwide; have been published in forty-nine territories and in forty-five languages around the world; and have been made into Emmy Award-winning and critically acclaimed television movies.
BONNIE JO CAMPBELL
Campbell is an American novelist and short story writer. She was a finalist for the 2009 National Book Award in fiction for her short-story collection American Salvage, which the Kansas City Star also named a Top Six Book of 2009. American Salvage was also a finalist for the National Book Critics Circle Award for fiction. She has won a Pushcart Prize for her story "The Smallest Man in the World," the 1998 Associated Writing Programs Award for short fiction (for Women & Other Animals), and the 2009 Eudora Welty Prize from Southern Review for "The Inventor, 1972."
MICHAEL DELP
Delp was an instructor of creative writing at the Interlochen Center for the Arts in Michigan. Delp's literary works have been recognized and highlighted at Michigan State University in their Michigan Writers Series. He is known for writing about nature, especially fishing and water. He was co-editor (with Conrad Hilberry and Herbert Scott) of the anthology Contemporary Michigan Poetry: Poems from the Third Coast (1988).
JACK DRISCOLL
Driscoll is the author of four books of poems, two collections of short stories, and four novels. In addition, he is the recipient of numerous grants and awards, including the NEA Creative Writing Fellowship, the NEH Independent Study Grant, two Pushcart Prizes and Best American Short Story citations, the PEN/Nelson Algren Fiction Award, the Associated Writing Programs Short Fiction Award, and seven PEN Syndicated Project Short Fiction Awards.
JEFFREY EUGENIDES
Jeffrey Kent Eugenides is an American Pulitzer Prize-winning novelist and short story writer of Greek and Irish extraction.was born in Detroit and attended Brown and Stanford Universities. Farrar, Straus, & Giroux published his first novel, The Virgin Suicides, to great acclaim in 1993,. In 1986 he received the Academy of Motion Picture Arts and Sciences Nicholl Fellowship for his story "Here Comes Winston, Full of the Holy Spirit". His 1993 novel, The Virgin Suicides, gained mainstream interest with the 1999 film adaptation directed by Sofia Coppola. The novel was reissued in 2009.
RICHARD FORD
Ford is the author of the Bascombe novels—The Sportswriter, Independence Day (the first novel to win both the Pulitzer Prize and the PEN/Faulkner Award), The Lay of the Land, and, most recently, Let Me Be Frank With You—as well as the New York Times bestselling novel Canada and the short story collections Rock Springs and A Multitude of Sins, which both contain many widely anthologized stories.
SEBASTIAN JUNGER
Junger is the internationally acclaimed author of The Perfect Storm, which spent over three years on the New York Times bestsellers list and was the basis for a major motion picture starring George Clooney. He is also the author of the New York Times bestsellers Fire and A Death in Belmont. He is a contributing editor to Vanity Fair, and has been awarded a National Magazine Award and an SAIS Novartis Prize for journalism.
CHUCK KLOSTERMAN
Chuck Klosterman is a New York Times bestselling author and a featured columnist for Esquire, a contributor to The New York Times Magazine, and has also written for Spin, The Washington Post, The Guardian, The Believer, and ESPN.
PAULA MCLAIN
McLain is an American author best known for her novel, The Paris Wife, a fictionalized account of Ernest Hemingway's first marriage, which became a long-time New York Times bestseller. She has published two collections of poetry, a memoir about growing up in the foster system, and the novel A Ticket to Ride.
TOM PEROTTA
Tom Perrotta is the author of the forthcoming novel The Leftovers, as well as The Abstinence Teacher, Little Children, Joe College, Election, The Wishbones, and Bad Haircut.
DAVID SEDARIS
Sedaris is an American humorist, comedian, author, and radio contributor. His books have sold ten million copies. Much of Sedaris' humor is ostensibly autobiographical and self-deprecating, and often concerns his family life, his middle-class upbringing in the suburbs of Raleigh, North Carolina, his Greek heritage, homosexuality, jobs, education, drug use, and obsessive behaviors, and his life in France, London, and the English South Downs.
DANIEL SILVA
Silva is a bestselling American author of 17 thriller and espionage novels. He has been called his generation's finest writer of international intrigue and one of the greatest American spy novelists ever.
JANET LEAHY
Leahy is an American television writer and producer. She has worked in both capacities on the AMC drama series Mad Men and won a WGA Award for her work on the show. Mad Men won seven Emmys and seven Golden Globe awards.
LISA ALBERT
Albert is an American television writer and producer. Albert originally began working in publishing until she switched to television writing in 1986. She is a writer and producer for the AMC drama series Mad Men and has won a WGA Award for her work on the show. Mad Men won seven Emmys and seven Golden Globe awards.
MICHAEL ZADOORIAN
Zadoorian was born and raised in Detroit. He is the author of Second Hand and The Lost Tiki Places of Detroit.
2010
AMY ALKON
Alkon, also known as the Advice Goddess, writes a weekly advice column, "Ask the Advice Goddess," which is published in over 100 newspapers within North America. While Alkon addresses a wide range of topics, she primarily focuses on issues in intimate relationships.
MARIO BATALI – 2010 National Cherry Festival author guest
Batali is an American chef, writer, restaurateur, and media personality. In addition to his classical culinary training, he is an expert on the history and culture of Italian cuisine, including regional and local variations. Batali co-owns restaurants in New York City, Las Vegas, Los Angeles, Singapore, Hong Kong and Westport, Connecticut. Batali's signature clothing style includes a fleece vest, shorts and orange Crocs. He is also known as "Molto Mario."
TOM BROKAW
Brokaw was an American television journalist and author best known as the anchor and managing editor of NBC Nightly News from 1982 to 2004. He is the author of The Greatest Generation (1998) and other books and the recipient of numerous awards and honors, including an Emmy Award for Lifetime Achievement. He is the only person to host all three major NBC News programs: The Today Show, NBC Nightly News, and, briefly, Meet the Press. As his career wound down, he served as a Special Correspondent for NBC News and worked on documentaries for other outlets.
JAMES BRADLEY
James Bradley is the author of the New York Times bestsellers The Imperial Cruise, Flyboys, and Flags of Our Fathers.
PHIL CAPUTO
Novelist and journalist Philip Caputo has written 15 books, including two memoirs, five books of general nonfiction, and eight novels. His acclaimed memoir of Vietnam, A Rumor of War, has been published in 15 languages, has sold two million copies since its publication in 1977, and is widely regarded as a classic in the literature of war.
BRYAN GRULEY
Bryan Gruley is the critically acclaimed author of Starvation Lake: A Mystery, and the sequel, The Hanging Tree. He is a reporter-at-large for Bloomberg News, writing long-form features for Bloomberg Businessweek magazine. He previously spent nearly sixteen years with The Wall Street Journal, where he shared in the 2002 Pulitzer Prize for coverage of the September 11 terrorist attacks.
GRETCHEN HOLT WITT
Holt-Witt, founder of Cookies for Kids' Cancer, has worked with clients from a variety of industries. She is now the director of public relations strategies for OXO in New York City. In 2007, Witt's career achievements took a back seat when her son Liam was diagnosed with pediatric cancer. Committed to doing all she could to bring attention to a need many people aren't aware of, she and her husband founded Cookies for Kids' Cancer, raising millions of dollars to date. Witt was named one of Women's Day magazine's 50 "Women Who Are Changing the World" in January 2010 and was honored by Traditional Home magazine at the 2010 Classic Woman Awards.
RHODA JANZEN
Janzen is an American poet, academic and memoirist, best known for her New York Times bestselling memoir Mennonite in a Little Black Dress.
MARY KARR
Karr is an American poet, essayist and memoirist. She rose to fame in 1995 with the publication of her bestselling memoir The Liars' Club. She is the Peck Professor of English Literature at Syracuse University
WALTER KIRN
Kirn is an American novelist, literary critic, and essayist. He is the author of eight books, most notably Up in the Air, which was made into a movie starring George Clooney.
THOMAS LYNCH
Essayist, poet, and funeral director Thomas Lynch has written four critically acclaimed volumes of poetry, three award-winning volumes of essays, and a book of short fiction. Lynch has received numerous awards and grants from the National Book Foundation, the National Endowment for the Arts, the Michigan Council for the Arts and the Irish Arts Council.
KARL MARLANTES
Marlantes is an American author, businessman, and decorated Marine veteran. He is the author of Matterhorn: A Novel of the Vietnam War, a New York Times Top 10 Bestseller published in 2010. His decorations include the Navy Cross, Bronze Star, two Navy Commendation Medals for valor, two Purple Hearts and ten Air Medals
PETER MATTHIESSEN
Matthiessen was an American novelist, naturalist, wilderness writer and CIA agent. A co-founder of the literary magazine The Paris Review, he was a three-time National Book Award winner. He was also a prominent environmental activist. In 2008, at age 81, Matthiessen received the National Book Award for Fiction for Shadow Country.
AUDREY NIFFENEGGER
Niffenegger is an American writer, artist and academic. Her debut novel, The Time Traveler's Wife, was published in 2003. A film adaptation was released in 2009.
2009
ELMORE LEONARD
Leonard was an American novelist and screenwriter. His earliest novels, published in the 1950s, were Westerns, but Leonard went on to specialize in crime fiction and suspense thrillers, many of which have been adapted into motion pictures. Among his best-known works are Get Shorty, Out of Sight, Hombre, Mr. Majestyk, and Rum Punch (adapted for the movie Jackie Brown). Leonard's writings include short stories that became the films 3:10 to Yuma and The Tall T, as well as the FX television series Justified.