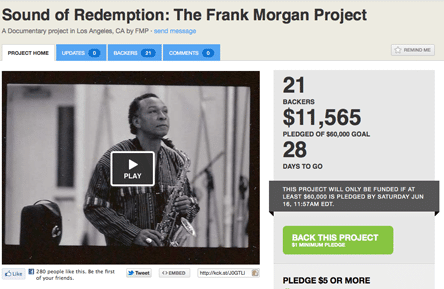 A Documentary Project in Los Angeles, CA by FMP
Read more about the project on Kickstarter.com
Frank Morgan was a prodigal alto sax player who, like so many of his fellow musicians of the era, saw his career plagued by drug addiction. What sets Frank apart is not just his exceptionally beautiful, classic alto playing, but also the amazing fact that he survived 30 years of revolving door incarceration and drug abuse and went on to a much heralded comeback career in the last 22 years of his life. His story is one of brilliant promise in his youth, a journey through the depths of hell, and redemption through his art.
The documentary film will tell the story of his life and transformation through interviews with fellow musicians and people who were close to him. These will be intercut with footage of Frank, and tracks of his very emotional music. Holding the story together will be footage of the preparation and performance of a tribute concert planned for a prison. The years Frank spent in San Quentin State Prison were significant because there were so many great musicians "in residence" there that the far-sighted warden of the time allowed them to form a big band, known as The San Quentin All Stars. People came from all around the Bay Area to hear them play. Frank was proud to be in that band, and doubtless refined his skills as a musician in the company of the other great players serving time for narcotics related convictions.