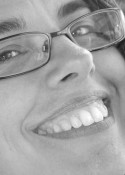 September 7, 2012
TRAVERSE CITY — Jill Tewsley can't believe her good fortune.
The newly hired executive director of the National Writers Series says she still gets goose bumps thinking about the opportunity that awaits her.
"There are a lot of great writers programs out there, but there are few that make the impact that the National Writers Series does," she said.
Twenty years of experience in the book publishing and retail industry, including 13 years as senior marketing manager for the Borders Group in Ann Arbor, give Tewsley the background to lead the nonprofit organization along with the Front Street Writers program.
"She has a kaleidoscopic grasp of the challenges facing the publishing industry and is a perfect fit for the next phase of NWS growth," said series co-founder Doug Stanton.
Tewsley says she is looking forward to using her expertise in event planning, promotion, marketing and fund development, as well as her experience in working with publishers, to expand the visibility of the National Writers Series.
"I hope to elevate the awareness and have publishers knocking down the doors, even more so than they already are," she said.
She also hopes to reach out to area book clubs and local libraries to get them involved, working to build and reach new readers.
"I have, since I was a girl, loved books and it is so exciting to see how books can impact people in their everyday lives," she said.
Tewsley is a Michigan native who grew up in a small town near Grand Rapids. She attended Aquinas College and worked most of her adult life in Ann Arbor. She is looking forward to moving to Traverse City with her husband John, and children Maxine, 10, and Alden, 7.
"I'm proud to be part of this program in my home state and am excited to become a member of the Traverse City community."