The National Writers Series will offer a new and expanded Front Street Writers program that will launch this fall 2016 in partnership with the Traverse Bay Area ISD. The deadline to sign up is April 15. If interested, please contact your home counselor now. The move away from the excellent program we now run in collaboration with Traverse City Area Public Schools program will open a wider door to a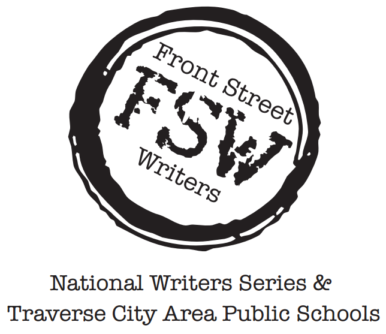 spiring high school writers-kids in the five-county area who may never have had the opportunity to study creative writing. Plus, the program has the potential to serve twice as many kids AND will offer writing internships in all kinds of businesses (think technical writing, copywriting, journalism, publishing).
The Record-Eagle and the Ticker did a nice job of reporting the switch to the Career Tech Center where budding filmmakers, graphic artists and website designers have all found a creative home. Take a look at this video the film students just made!
Here is the course description:
Front Street Writers – Foundational Writing Studies (1st year)
Front Street Writers – Advanced Writing Studies (2nd year)
English Language Arts 11 or/and English Language Arts 12
3.0 credits (full year course)
The Front Street Writers program is designed specifically for students who are interested in studying writing as a craft and pursing it as a potential profession via multiple industries. Writing forms appropriate for journalism, technical, business, marketing, trade, and social media platforms will be explored through various lenses. Exemplar pieces will be studied, deconstructed, reassembled, and students will produce pieces to meet the needs of various audiences and purposes.
Students will be taught in a workshop setting by a professional writer with a Master of Fine Arts and a Career-Tech instructor. It is open to independent, highly motivated students who have proven in 9th and 10th grades to have an aptitude for and love of writing. Students will submit an application and portfolio for admission. Class will meet for two and half hours each school day and is open to students across the five county region.
Students will be required to develop a comprehensive and peer-critiqued writing portfolio, submit to student and industry publications, read their work at public exhibitions and National Writing Series events, and prepare for co-op, work experience, and/or internships as integral components of the program. Visiting authors and industry professionals, master classes, and access to the networking of the National Writers Series are all benefits of choosing this exciting and innovative option to the traditional high school English course.

Application Process: All materials need to be submitted to your home school counselor before April 15th. Your home school counselor will be notified on or before May 1st, at which time the class can be added to your schedule for next school year and you will fill out Career-Tech enrollment paperwork.
An acceptance letter will be emailed and mailed home to accepted applicants with summer reading responsibilities. There will be a student/parent meeting during CTC open house in August that you should plan to attend. A separate postcard and email will follow with that date and time.
If your counselor notifies you of acceptance but you do not receive a letter or email by June 1st, please contact Stephanie Long, curriculum supervisor at the Career-Tech Center at slong@tbaisd.org or 922-6570.