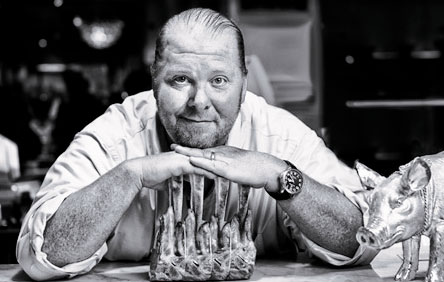 Mario Batali is an internationally-known chef, restaurateur, media personality, philanthropist, and writer.  In addition to his classical culinary training, he is an expert on the history and culture of Italian cuisine, including regional and local variations. Batali co-owns restaurants in New York City, Las Vegas, Los Angeles, and Singapore.  Batali's signature style includes shorts and orange Crocs.
Batali has written eleven books, including Molto Gusto: Easy Italian Cooking, and his most recent, Molto Batali: Simple Family Meals From My Home to Yours. All of his books have been bestsellers.
Batali lives in New York City, but summers in Northern Michigan, where he is seen often at local farmer markets and restaurants.
He is on the board of directors for The Lunchbox Fund, a non-profit organization which provides a daily meal to students of township schools in Soweto of South Africa.
In 2009, Batali announced the creation of the Mario Batali Foundation "to educate, empower and encourage children". The foundation is an event-driven fundraiser for children's disease research, children's hunger relief, and literacy programs.
Batali appeared in August 2011 for a special fundraiser for the National Writers Series scholarship fund.  He was interviewed by colleague and friend, Paul Saginaw, founder and owner of Zingermans, a renowned deli in Ann Arbor, Michigan.