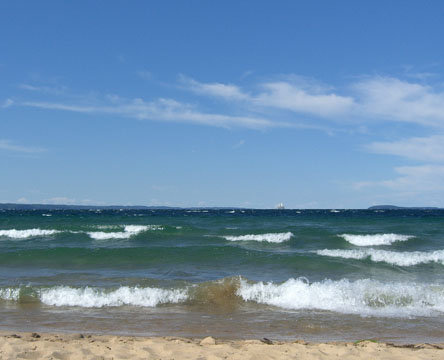 Traverse City is among just a few destinations in the country that have received accolades from over 15 national rankings publications in just 24 months! Recently, Liveability.com named Traverse City a 'Best Book City', Bon Appétit named Traverse City one of 'America's Five Top Foodie Towns', while USA Today named Traverse City one of the 'Top 10 Places to Enjoy Local Wine', and AOL Travel News gave Traverse City the #8 spot in its list of 'America's Top Ten Beach Towns', AOL Travel News also named Traverse City one of the 'Top 10 Coolest Towns in the States', and ABC's Good Morning America named nearby Sleeping Bear Dunes National Lakeshore 'America's Most Beautiful Place'.
From the Historic Park Place Hotel, which features a 'Book Lovers Getaway' including an overnight and National Writers Series tickets for two with breakfast, dinner and a downtown Traverse City Gift Certificate great for a book purchase; to a fabulous beachside hotel or resort, Traverse City is home to many lodging properties and attractions. Visit www.traversecity.com for more destination news!
A Special Gift to the Community
It is with great pleasure that the city welcomes all the guests, sponsors, and supporters to another season of the National Writers Series. We're encouraged that the City Opera House will again be filled with a delightful mix of writers bringing Traverse City yet another dose of sophisticated entertainment. Occasional wit, humor, and laughter
come at no additional cost!
Those who have gathered at the Opera House have been treated to an endless list of writing talent. We've enjoyed The Five People You Meet in Heaven as presented by Mitch Albom, met The Greatest Generation with Tom Brokaw, and been inspired by Gretchen Witt raising funds and awareness for pediatric research.
The National Writers Series has assisted in placing Traverse City on the national radar and provided an on-going event delighting those who gather for these greatly entertaining experiences. Make it an evening or an afternoon in Traverse City, visiting with a nationally acclaimed author at the historic Opera House, then delighting in one of our outstanding city restaurants.
Have a wonderful and entertaining 2012 and enjoy yourself as you hear the personal stories behind our great books!
Michael Estes, Mayor of Traverse City