Wednesday, August 29, 2012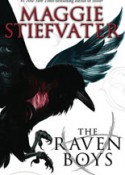 My first Maggie Stiefvater book and I'm not sure how to put into words what I feel. I think she's one of the very few authors I've read that rendered me speechless.
Summary:
"There are only two reasons a non-seer would see a spirit on St. Mark's Eve," Neeve said. "Either you're his true love . . . or you killed him."
It is freezing in the churchyard, even before the dead arrive.
Every year, Blue Sargent stands next to her clairvoyant mother as the soon-to-be dead walk past. Blue herself never sees them—not until this year, when a boy emerges from the dark and speaks directly to her.
His name is Gansey, and Blue soon discovers that he is a rich student at Aglionby, the local private school. Blue has a policy of staying away from Aglionby boys. Known as Raven Boys, they can only mean trouble.
But Blue is drawn to Gansey, in a way she can't entirely explain. He has it all—family money, good looks, devoted friends—but he's looking for much more than that. He is on a quest that has encompassed three other Raven Boys: Adam, the scholarship student who resents all the privilege around him; Ronan, the fierce soul who ranges from anger to despair; and Noah, the taciturn watcher of the four, who notices many things but says very little.
For as long as she can remember, Blue has been warned that she will cause her true love to die. She never thought this would be a problem. But now, as her life becomes caught up in the strange and sinister world of the Raven Boys, she's not so sure anymore.
Blue has quite a gift: she amplifies the powers of her clairvoyant mother and her psychic friends. The night of St. Mark's Eve was one Blue will never forget. She met Gansey or more appropriately, a manifestation of him, walking on the Corpse Road. Gansey is an Aglionby boy, and he is going to die soon. All her life, Blue has been told that she's destined to kill the person she'll love with a kiss, and that's why she's staying away from boys, especially those in Aglionby, the Raven boys. But soon enough, Blue's paths crossed with the real, breathing Gansey and she was swept along his lifelong desire to find what has been eluding him all his life: Glendower, who, according to tales will favor the one who wakes him up. Finding Glendower alone was difficult enough, now Blue finds herself in the middle of the complicated lives of these boys. But she knows one thing: she will not let Gansey die.
It's quite stressful to read this book. I mean it in a good way, because Maggie Stiefvater just has this knack for making the readers feel so much emotions coming from her story all at once, especially her characters. I had to stop quite a few times to catch my breath. Maggie Stiefvater took great time in developing each and every character in this book, giving them believable, and oftentimes very complicated, back stories. Maggie had a knack for laying bare a lot of things about her character and still leave room for guessing, for mystery. The depth of each and every one of them is one of the reasons why I held on reading. They all seem so broken, like a fundamental part of them was missing and only the search for Glendower will make them whole.